We hosted the church Christmas parties again this year and had a great time with the church family.  We read the Christmas story, we sang Christmas carols and played games, but most of all, we had a chance to be together as a church family and enjoy a time of fellowship and friendship.  We love our church!
We had 90 people come to the Christmas parties, so split the group up over two nights. Â Here are a few pictures of the evenings:
Matt read the Christmas story from Luke 2. Â Pastor Brian had taken a few weeks to preach from this text, so we all had a greater understanding of the passage as we listened to the story together.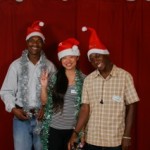 Matt had set up a photo booth in our dining room and left a remote control for everyone to take their own pictures. Â A few Christmas hats and garland only added to the fun!
A quick group shot from our second night. Â We had a great time celebrating our Savior's birth with our church family, and we're already looking forward to next year!