Earning and Keeping Miles
We've learned a few tricks about using airline miles, and decided to type them out for all our friends.  I hope they'll be helpful for some of you, and maybe other readers will be able to suggest some tips we've missed (let us know in the comments).  Part one, written a few transcontinental flights ago, is here:  Part 1: Flyer Miles: What to Expect
Pick Miles with a Long Shelf Life
I'm assuming most of our readers are, like us, folks who fly the occasional really, really long trip.  If so, the most important feature in a frequent flyer program is most likely the life expectancy of the miles.  Many miles will expire 1.5 to 3 years after you earn them.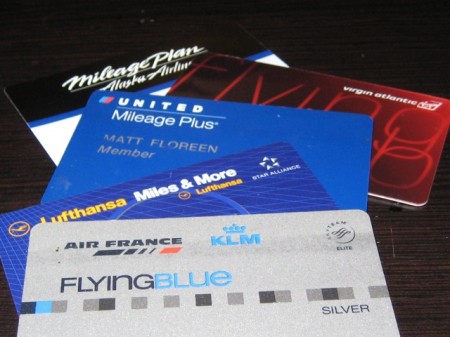 Earning Miles Intentionally: Determine Your Top 2 or 3 Airlines
This can take an hour or so, but I definitely recommend it.  I wish I'd done it years earlier.
First, make a list of all the airlines you already have miles with.  For chronic mile-wasters like me, that means digging through your desk drawer, email archives, or passport holder and finding cards, welcome emails, and notes torn out of SkyMall.  If you can find your membership number, write that down too.
Second, add any other airlines that would be a logical addition to your list.  Applying for work in Alaska?  Add Alaska Airlines.  Also factor in the airlines which have a hub in your city.  (If you aspire to be an over-the-top mile collector, the folks at FlyerTalk have a forum for you.)
Then for the hard part.  Answer each of the following questions for each airline on your list.  I recommend typing it.
Expiration: How long before miles expire?  (On a good plan, the miles never expire)
Activity: How often do you need to fly to keep all your miles active?  (Even if your miles don't expire, your account can be cancelled if it's inactive for a period of time)
Partners: What airlines can you fly and still earn miles with them?  (Write down the ones you might fly someday.)
Login:Â  What is your username, password, etc. for the airline's website?
Balance: What's your current mileage balance?
Pick your top 2-3 airlines.  Once you see the above info side-by-side, it should be pretty clear which program will give your miles the longest shelf life.  My #1 airline choice is KLM, because they partner with airlines I fly often (Kenya, Continental, Delta), and their miles last 20 months as long as I fly once every 20 months.
Keep this list handy.  I have mine saved on my computer so I can refer to it whenever I book a plane ticket online.  Just because I have a Continental OnePass card doesn't mean I should use it for my Continental flight.  This list shows me that I should put those miles on KLM instead.  I keep a 3×5 card with all my flyer mile numbers on it in the back of my passport.
Keeping Miles
Never refuse miles.  Even if you don't think you'll ever fly Aeroflot again, get the miles.  If they're not a partner with any of the programs you already have (refer to the list you made above to check), sign up for theirs.  It's easiest to do it on their website before you fly.
To keep track of all my miles, I love AwardWallet.com.  It can check all my balances in one view, and shows me when they expire.  If I see that one of them is going to expire this year, I'll schedule a reminder for myself to revisit it the month before they do.
And when you see that your Lufthansa miles are expiring this month, you don't have to fly to Frankfurt quite yet. You can often get an extension on your miles buy spending a few of them.  We'll cover redeeming miles in part three.