We have internet at home again! Â Wahoo! Â Our router died in mid-December, so we've been limping along since then, pleading with our internet provider to replace the router – which they did last week!
We're headed back to the States for furlough in just 13 days, so there's no way we can catch you up on everything in the last few months. Â But we're taking videos and lots of pictures to upload once we get to California! Â In the meantime, here's a glimpse of what we're up to these days…
Setting up Baby Flo's room. Â She doesn't have a name yet, but from the color of her wardrobe, it's no secret that she's a GIRL! Â We can't wait to meet her sometime around August 21st, and it's kind of surreal that we're leaving here as 2 of us, and returning in September as 3 of us!
Learning to spell our names. Â It's harvest season here in Malawi, and our friends out in the village invited us out to see what was happening on their farm. Â And showed us the sticky seeds that they use to teach their kids how to spell their names. Â If you're wondering what the camera strap in this picture means… yes, we're bringing back some great pictures of harvest time and village life. Â Stay tuned!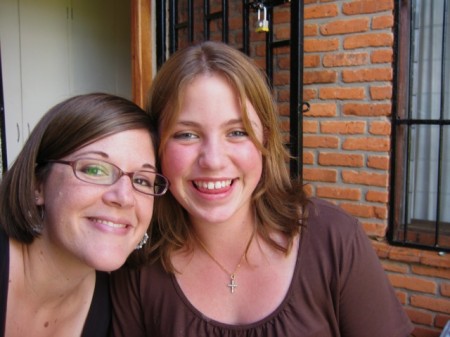 Hanging out with friends. Â Janique is part of the youth group that we meet with every Wednesday evening, and she's quickly becoming a good friend. Â Knowing we'll be gone for 3 1/2 months makes us treasure every chance we get to spend time with the wonderful people of International Bible Fellowship.
Taking pictures of all the important people in our lives. Â Leaving for a short time is a great excuse to take pictures of the people who have become a big part of our lives. Â Kondwani and Matt work side-by-side in the church office, and he and his family have helped us understand so many things about living in Malawi. Â Ministry happens in the context of people, so we're bringing lots of pictures back to the States to give you an idea of what (and who) Malawi looks like to us.
In a few days, we'll start packing for the States and closing up our home for it sit nice and quietly until we return in September. Â We'll start thinking about things like Target, dozens of radio station options (in English!), freeways, friends and family, mail delivered right to your front door… all in an attempt to avoid the worst of "reverse culture shock." Â We'll go to church that last Sunday and hug everyone, and Rachel will probably cry and blame it on being pregnant. Â And then on Tuesday the 25th, we'll get on a plane to Nairobi… to London… to LA! Â California here we come!