A couple weeks ago, we took Abigail in to the clinic for her 4 month check-up and vaccinations. Â We're following the CDC's recommendations for the American vaccination schedule. Â Kind of. Â The rotovirus and pneumacoccal vaccinations aren't available here in Malawi, so we'll catch up later in the States. Â The only other difference in her vaccination schedule is that she gets the oral polio vaccination rather than the injectable.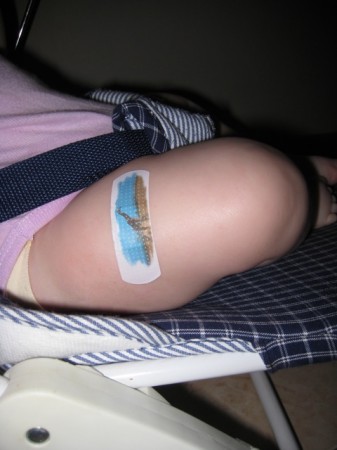 But she does get a great giraffe band-aid!
She also gets her own health passport, which is a copy of her medical records that we take with us whenever we go to a clinic or see any doctor. Â With a significant number of medical staff coming to Malawi for short-term stints (2 weeks to 2 years) there's not a lot of consistency or order to the medical world here, so it makes sense that you carry your own medical records.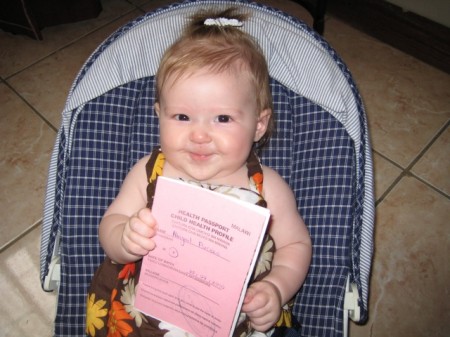 All in all, Abigail is doing great, and we thank the Lord for a healthy, very happy little girl. Â Look at that face though! Â We're not sure where she got her mischievous, adventurous personality…