We had a great little family vacation last month! Â Ever wonder how to go on safari with a 6 month old? Â Here's how we did it…
We went. Â Sometimes with a baby it's tempting to just stay home and keep a routine. Â But we just went. Â Babies are amazingly flexible. Â We gave her naps and food at all the right times, but we WENT.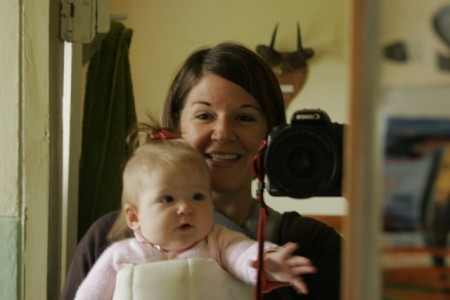 Make sure the baby is good around cameras. Â In our case, no problem. Â She's fine around cameras. Â Mom, however, is not so good at juggling baby and camera… It's got to be one or the other, so mom let dad take all the really good pictures.
Set your expectations. Â We planned to bring Abigail on as many things as we could, but knew that we'd have to go a bit slower, stop and enjoy things with her, and maybe cut a few things short. Â We also knew that at times there would be things that one of us could do while the other stayed back with her. Â Thinking through those things ahead of time made every experience more enjoyable.
Teach your baby to sleep on rough roads. Â We had about 11 hours of rough roads on this trip, and Abigail just slept right through it. Â She actually woke up if we stopped or the road was suddenly smooth!
Go places that you know YOU will like. Â Do you remember when your parents took you to Disneyland when you were 2? Â Of course you don't. Â The point: don't plan your vacation around your baby. Â Plan your vacation, then figure out how to do it with a baby. Â We went to Ntchisi National (Rain) Forest, Lake Malawi, and Nyika National Park. Â None of these places had a playground or even a toy box, but Abigail couldn't have cared less. Â She smiled and played with her 5 toys, and we loved all the beauty and variety we were able to enjoy.
Have enough diesel so you don't get stuck on the side of the road. Â This is good advice even if you're not taking a baby on safari. Â We didn't get stuck on the side of the road, but we did use every bit of diesel we had!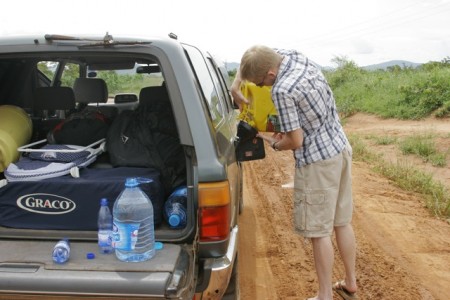 Even the jerry cans we had stocked up on! Â When we got to the furthest northern point of our travels, we drove in to the lodge with the fuel light on, 20 litres of diesel remaining in the jerry can, and the knowledge that we had a 5 hour drive before we would reach the next gas station. Â But we made it!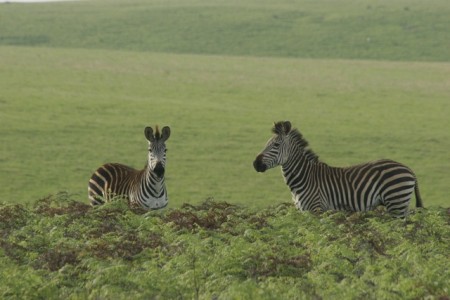 Get to know the locals. Â In our case, that meant the wildlife. Â We walked up to a herd of zebras…
.. spotted leopards! Â …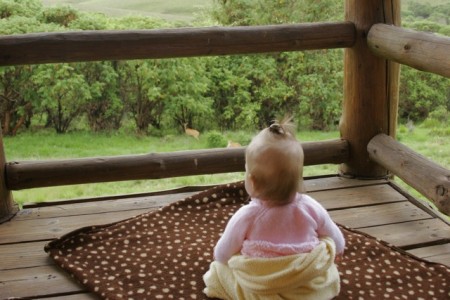 …and let Abigail sing songs to the bushbucks off our room's little balcony.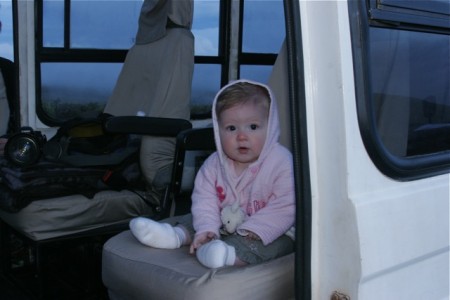 Be the only family booked at the lodge. Â This one recommendation, though entirely out of our control, might get the most "Amen!"s in our home. Â The lodge at Nyika National Park was running a "green season" special because it's the tourist off-season and it's rainy which makes it difficult to get around. Â So we knew we'd gotten a good package deal, but we didn't know until we arrived that we were the ONLY people at the lodge. Â They treated us like royalty, washing our laundry, babysitting Abigail during dinner, and taking a chatterbox 6 month old on safari.
We didn't mind if she was shrieking in delight at the elands, but a nice older bird-watching couple might not have appreciated her joy the way we did. Â Thankfully we didn't have to figure that out, and we went gleefully shrieking at the animals all over the park, from the sunrise safari to the nighttime safari.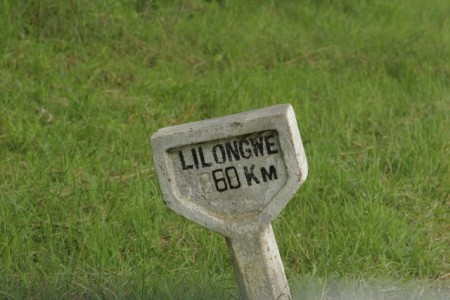 Enjoy it and go home refreshed. Â We're busy these days, as we're starting to describe in our We Love What We Do series, and we're about to get busier with the summer and short-term teams. Â We needed to get away, just for a bit, but on the last day of vacation we realized that we were ready to go home, to do more of what we love. Â The vacation had fulfilled its purpose, and we had learned how to take a baby on safari.