Abigail is getting to the age where she loves to explore, and Africa is the perfect place for explorers! Â She comes shopping with me every Tuesday morning, and while she has explored most of the shops we regularly visit, we have discovered a new favorite place to visit on Tuesdays…
ProtoFeeds is our stop to buy dog food, but we've also discovered that they sell day-old baby chicks for about $1 apiece. Â Each box contains 100 peeping little furry friends!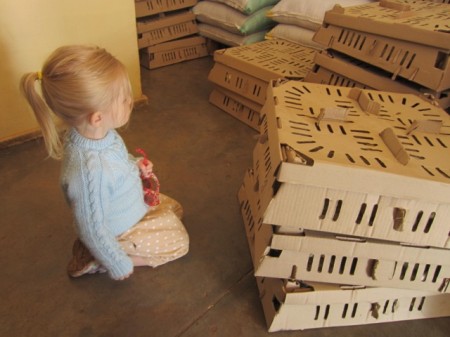 The guys always ask if she wants to hold a chick, but Abigail prefers to sit and watch… and tell everyone else in the store what's in the boxes!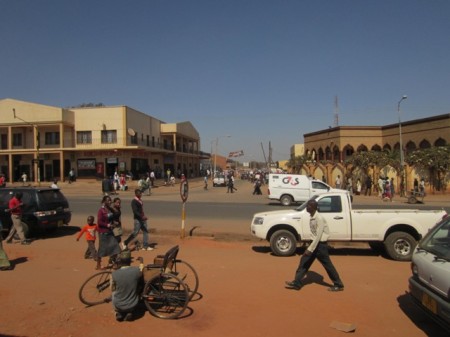 This week we spent our free day (Wednesday) exploring the southern end of Lilongwe, which is nicknamed "India Town." Â It's a busy place full of little shops crammed into long buildings, lots of pedestrians, and all kinds of interesting things to see. Â Including the man in the foreground of this picture who is climbing into his hand-peddled wheelchair.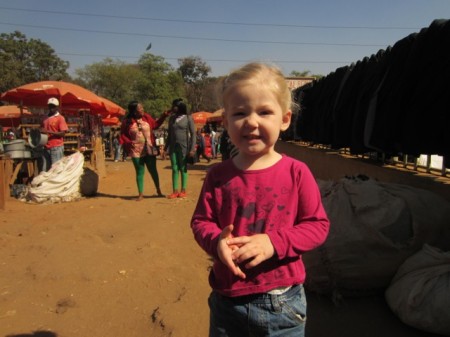 We also went to the open market along the banks of the Lilongwe River. Â This place is even busier, with bartering, over-eager salesmen, and piles of clothes, electronics, fabrics, shoes, pots, soap, headphones, hand-painted signs… all kinds of treasures. Â This picture is actually outside of the market so doesn't look too busy, but the fence on the right side of the picture is full of black suit coats for sale – every shape, size, and pattern!
Back in the main shops, while I shopped for fabric, Matt and Abi stayed outside the shop and watched the tailor work his old Singer treadle machine.
The old Singer machine isn't the only "old fashioned" tailoring item used here. Â I found this gem in the ditch right next to the tailor, filled with coals and ready to iron!
It may be winter here in sub-Saharan Africa, but it's still warm enough to stop for a cool orange Fanta on a busy day. Â And then we're off for more exploring!