We found a little window for vacation a couple weeks ago. Â The Biedebachs are back in the country now, Rachel's not TOO pregnant yet, and Abi was still 2 (read that as "free admission, room and board"). Â So with still-valid multiple entry visas to Zambia, we jumped at the chance to see one of the best game parks in southern Africa: South Luangwa.
All packed and ready to go! Â We're used to camping here in Africa, but we decided to do this trip a little differently. Â With border crossings, an unknown location in a foreign country, and pregnancy at 6 1/2 months, we decided to ride on a 15 passenger bus with 11 strangers and stay in a lodge.
The lodge we stayed at had stone and canvas chalets. Â It was a cute little place, complete with our own bathroom and room enough to add an extra bed for Abigail.
One of the lodge staff would use this drum to call us all to meals. Â Once Abi showed up, his job was in jeopardy! =) Â As a side note, the trees right behind Abi are part of the lodge property, and the trees in the background are across the Luangwa River, actually in the national park. Â We sat on the edge several times a day and watched baboons, impala, puku, crocodiles, and lots of hippos. Â We were so close to the park that at night we had to be escorted from our chalet to the lodge for dinner because elephant regularly walk through the grounds foraging for yummy trees and fruit.
The lodge took good care of us. Â Most meals were served in the open-air lodge, but one day for lunch they put us all out under the trees on the river's edge – truly dining al fresco.
On to the safaris… South Luangwa has some of the best game viewing in southern Africa. Â We've read lots of different claims, but it's something like the largest variety of game in the smallest amount of time/area. Â We discovered a little late in the trip that we didn't have the greatest guide, but we were still able to see a lot of animals on our 2 morning and 2 night safaris.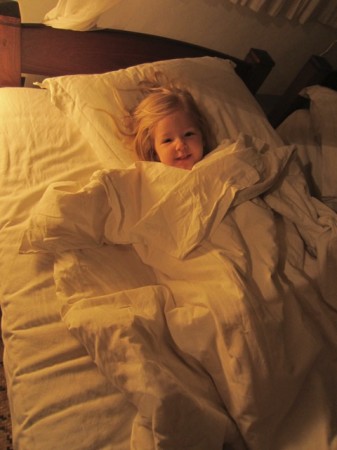 By "morning safari," they meant "wake up at 5am." Â This was a little much for Abigail, who would crawl out of her bed and straight into our bed! Â But that grin should tell you that she wasn't missing a thing and would be in the Land Rover as soon as possible!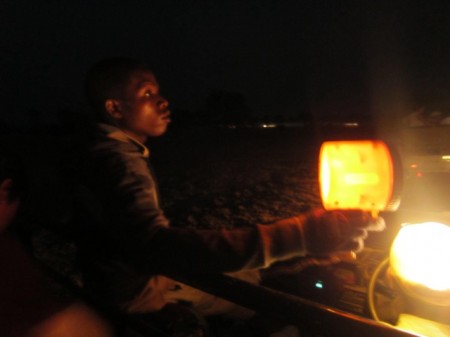 And by "night safari," they meant "it's very dark and you can only see what the spotlight will let you see."  South Luangwa is one of only a handful of parks that allows night drives, but it was on the night drives that we saw lion and leopard!
We weren't sure what we were going to do with Abi while on safari drives. Â We've been practicing using a normal or quiet voice, but she really likes to talk loudly – especially if she sees an impala, her favorite animal. Â So we thought we'd take her on the first morning drive and see how she did. Â As it turned out, we were put in a safari vehicle with 4 college students from southern California, and I'm pretty sure they made more noise than Abi did, so it was all good! Â We did end up leaving her with a babysitter for the first night drive, and then Rachel stayed back with her for the second night drive. Â Baby Flo 2.0 had had enough of all those bumpy roads…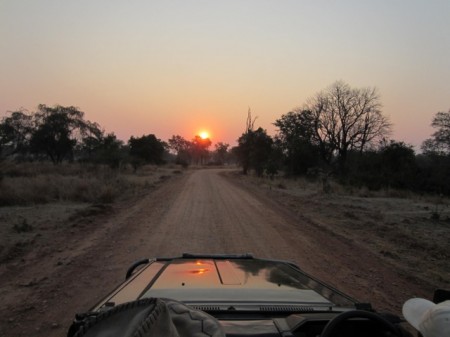 We saw sunrise and sunset from the back of an open Land Rover. Â Even without animals in sight, this is an amazingly beautiful park.
But animals we did see! Â Giraffe, impala, puku, warthog, elephant, guinea hens, lilac breasted rollers, waterbuck, leopard, lion, hyena, genet, mongoose, serval, monitor lizard, crocodile, hippo, baboons, monkeys, Cape buffalo, love birds… I'll bet you had to look a couple of those animals up. =) Â We did too! Â And if you want to see more animals – the professional shots – check out Matt's Flickr page. Â He has already posted 35 pictures from our first 2 safari drives, with more from drives 3 & 4 coming in the next couple weeks. Â Seriously, they're good, and I (Rachel) will shamelessly promote it on this blog! Â =)
Speaking of photographers, we apparently have another one in the family. Â Abigail took this picture of Matt setting up a shot on the river's edge.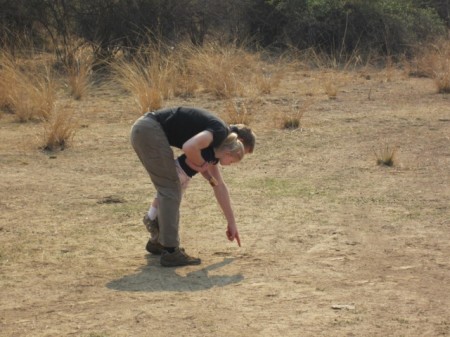 And she's learning how to track animals. Â Give her a few more years and we won't need to hire a guide any more. Â She's already an expert at tracking hippos.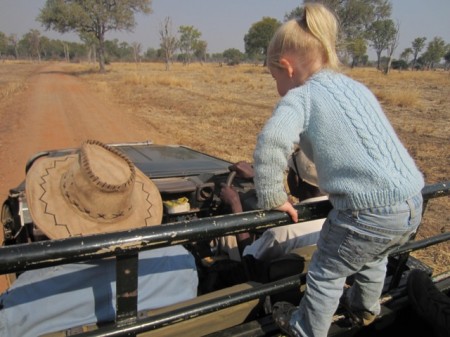 Matt recorded our safari routes on GPS, and we were surprised to discover that we'd covered only about 1% of the park during all 4 safari drives we were on. Â I can't imagine how many more animals there are out there… Â Abigail was eager to see as many as possible, so kept encouraging our driver to go faster!
But every once in a while, a 30 second nap was required to keep her going.
All in all, it was a good trip. Â Lots of photos, good family time, and we came home saying "that was good, but it's also good to be home" – the sign of a good vacation.
Happy safaris to the rest of you!