Our first official visitor was our good friend Wendy Simpson. Wendy and I have run into each other all over the world, so it wasn't at all surprising when she said she'd be traveling through Africa and could she stop by? Of course! Matt and I haven't explored very much of Malawi yet, so we took the opportunity to find a few new places with Wendy.

Kumbali Lodge, just outside of Lilongwe, has a great little village and cultural center. We stopped by to check it out and climb their trees.

We didn't know how to play the popular local game of bano, so we made up our own game. Learning how to play the real way is now on my Cultural To Do List.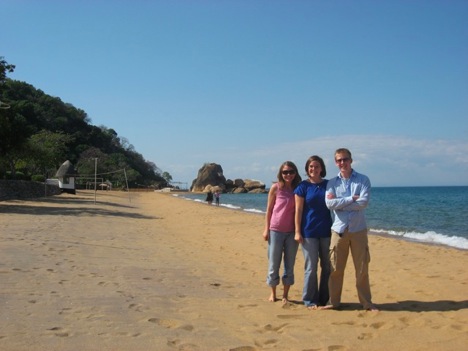 Lake Malawi is a required outing for any first-time visitor. It's also great for second and third time visitors. =)
Thanks so much for coming to see us, Wendy, and for letting us take you to new places! We really enjoyed your company, friendship, and encouragement. You're always welcome in our home!