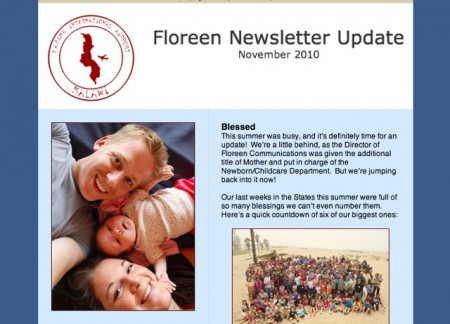 We've decided to entirely change how we do the blog and our newsletters.  Here's what we're going to try: The blog and the newsletter will now cover the same things.  We'll try to blog more frequently, on a wider variety of topics: latest news, picture of the day, day-in-the-life, stuff we're learning, prayer requests, etc.  Then, we'll still email out a  newsletter about every other month, which will encapsulate everything that's gone up on the blog since the last newsletter.  The idea is that the newsletter will be a digest covering all the headlines, with summaries of the recent blog posts, and links to the full story.  In other words:
Blog = Random collection of up-to the minute content.
Email Newsletters = Periodic summary of all blog content.
So, unless you want to read the same thing twice, you probably want to follow either our blog OR our newsletter.
Don't have a lot of time to read stuff online?  Prefer your news condensed and organized in your inbox?  If so, you want our newsletter.  You can subscribe to it here.
Want your news in bite-sized snippets throughout the week?  Prefer to read the whole story, when it happens?  If so, you should follow our blog.  We'd suggest subscribing to our blog by using an RSS reader (like Google Reader) if you haven't already done so.
Some of you have been receiving the blog posts in your email inbox. Â With these new changes to our blog and newsletter, we'll no longer be sending out blog update emails. Â We'd suggest an RSS reader for you too. Â If you're not familiar with RSS readers, Google has a very informative video about their reader. Â Once your reader is set up, you'll want to subscribe to http://www.africastories.com.
Can't decide?  Not sure which one is best?  If so, you should probably subscribe to our newsletter for now.  We'll be sending it to your email, and if you find that you always end up at the blog anyway, you can change later.
And by the way, let us know if you have suggestions for our new newsletter or blog!  If there's something you love about the way we do things now, or something you've always wished we did more of, click comment below and let us know.  We'd love your ideas!
Whichever way you follow along, we're looking forward to sharing with you more of our lives and ministry here in Malawi!  We're thankful for each one of you, your interest in our lives and service, and for the encouragement you give us to keep on going.