(Rachel)  I love spending time with the ladies of our church. I like getting together with them for tea, or chatting with them after the service on Sunday, but most of all I like studying the Bible with them. I feel like I'm sounding over-spiritual when I say that, but here's what I mean: I believe that the Bible is true and that it changes my life as I study it. It's full of deep, thought-provoking, soul-challenging truth. When I study it with other ladies, we share the experience of God's Word and His Spirit changing our lives. We learn things together and help one another know how to apply what we've learned. It's a group context, but what happens is deeply personal. The ladies I study the Bible with are the ones who know me, and I know them. I laugh more readily with them, and I cry more readily with them, because I know their hearts.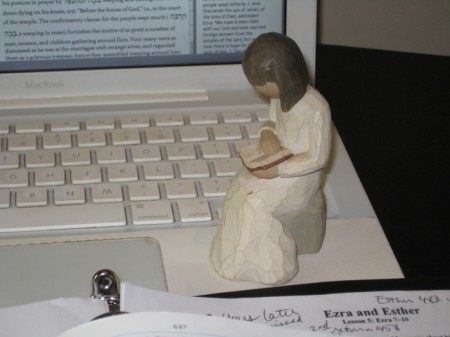 These past couple months I have had 2 opportunities every week to study the Bible with the ladies from International Bible Fellowship Church. I'll just talk about one of them today: our regular Tuesday morning Bible study.  We're about to finish a study of the book of Ezra.  This study is pretty intense with lessons and homework that involves lots of searching through the Bible to understand what's happening in the book and what God is doing in the grand scheme of history at the time this book takes place. When the ladies showed up at our house a couple weeks ago, I thought they were going to mutiny!
"Do you think I went to theological school?!"
"Rachel, this is hard!"
And you know what? They're right. It is hard. But by the end of the morning, the comments were a little different.
"This is good for us."
"We need to get our mushy brains going!"
"Vacation is over; we have to study now!"
I'm so thankful for these ladies and that they're willing to work hard to understand the rich truths of God's Word!  Please be praying for us that we'll be faithful to study diligently so that we can present ourselves to God as "workwomen" who do not need to be ashamed, rightly handing the Word of truth (2 Timothy 2:15).