The fuel tank in our 1991 Surf (like a 4Runner) hasn't been full since the 26th of September. Â That was the day that Rachel and Abi were headed into Lilongwe and happened to pull onto the main road behind a fuel truck, which they followed to a gas station. Â After waiting 2 hours for the fuel to unload, they drove away with a full tank of diesel.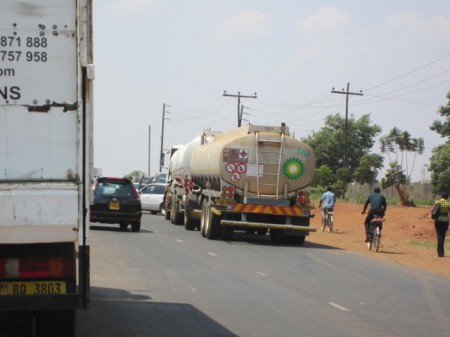 That was also the last time we've pulled into the gas station and right up to the pump. Â Even in September, being in the "number one position" was a good way to make people jealous. But once they saw that Rachel was waiting with a toddler, the other drivers didn't put up a fight. In fact, they were really friendly.
And Abi did great! Â She played with sticks, made faces at the attendants, and was great entertainment for everyone in line!
We've had a fuel shortage here in Malawi since April. Â At first it was usual to wait in line for an hour or two, but not usually more than that. Â Now… well, people wait in line overnight, sometimes for several days.
We've done the overnight thing, and we've taken our car to the station at 5am more than a few times. Â There's only so long you can wait though before you give up and decide to try again another day. Â Last week, Matt spent another morning in the fuel line, following a rumor that this station was expecting a delivery. Â After 3 hours, he texted Rachel: "The tanker is here!" Â Two minutes later he texted the bad news and took this picture:
PETROL!?! Â Hours in line for the wrong fuel… Matt gave up his place in line and came home, knowing he had enough fuel to get home, but probably not enough to get to another gas station. Â So we changed tactics.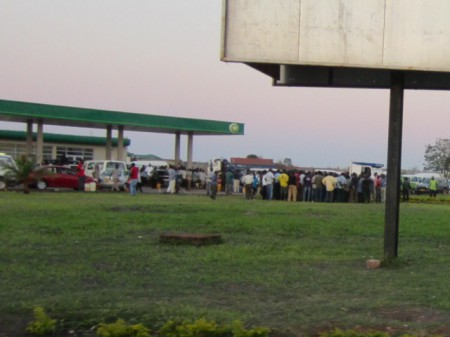 Our night guard is willing to spend part of his days looking for diesel for us. Â We pay him a bounty for every jerry can of fuel he purchases for us. Â This means he's usually in a crowd of men – like the one pictured above – waiting at a gas station from 7am to 4pm. Â It's getting dirty though… he just brought a jerry can of fuel to us today and said that the attendant refused to fill the container. Â The attendant put 20 liters of fuel in our 25 liter jerry can and demanded the remainder of the cash as his "tip." Â A nearby policeman did nothing to stop the extortion – probably because he needed fuel too. The amount that the attendant took from our night guard was the equivalent of 2-3 days' good wages here. Â This is becoming all too common.
We have enough fuel now to pick up Rachel's parents at the airport in a week and a half. We're saving the rest by walking as much as we can: Rachel is buying food in the neighborhood shops, and Matt takes a backpack to the office now. Besides enjoying the exercise, we're building good habits. The price of diesel went up again this week… to $8 a gallon!