We're expecting Baby #2 sometime around November 6th! Â After much thought, we've decided that if we are able, we'll stay in Malawi for the birth. Â Abigail was born in Glendale, California, and we had thought about going to South Africa for this kiddo, but SA is a long way away. Â We have a great support base of friends to help us here in Malawi, and a good Dutch doctor – who's not afraid to send us to SA if he needs to. Â With that in mind, we headed to the mission hospital at Nkhoma for our first official pre-natal check-up.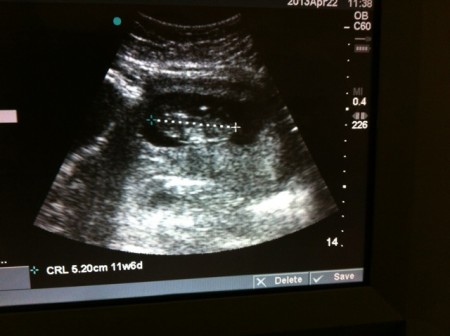 Pre-natal check-ups here in Malawi are SO easy: heart beat, blood pressure, weight, how do you feel?, ultrasound. Â Done. Â And all for $1.75. Â I don't think we'll be filing an insurance claim on that one.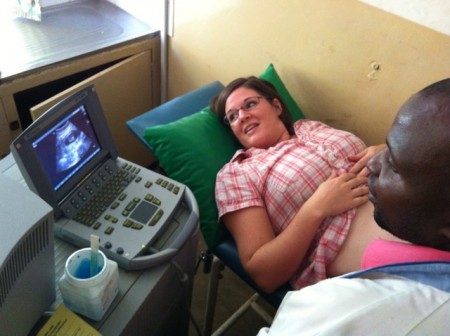 Ultrasounds are fun! Â Our little one was so wiggly that it took a long time to freeze the picture to get a good measurement. Â He's right on schedule for a November 6th due date. Â And yes, he's already referred to as a boy – both motherly intuition and all the old wives' tales hint strongly that this is a boy. Â It'll be about another 10 weeks before we can find out "for sure" – the ultrasound machines aren't as technologically advanced here as they are in some other parts of the world!
One of the most reassuring parts of today was seeing this room: delivery and recover in the private wing. Â It's a large room, with 2 beds, a couple shelves and cupboards, a desk and chair, and a private toilet and shower. Â And in true mission hospital tradition, the Dr. offered for Matt to come stay at his home if he's not a fan of the spare bed here, and he said his family could watch Abigail for us. Â Mission community is like family, and we felt that today. Â We're excited to have a baby here, and are praying that God would give us a healthy pregnancy and delivery. Â Now if we could just do something about the "morning" sickness! Â =)