It was very hard to leave Simba and Samson, our two Great Danes, back in Malawi. Ever since then, we have been talking as a family about whether or not we will get another pet, and if so what kind? Bird? Fish?
And then one day I got a call from Matt while he was working at the church. The gardener at church had caught a mother and baby sparrow, and would we like to take them home and release them later? I confirmed that the baby could fly, and agreed to our first temporary pets. We only had them for about an hour, and then let them fly off. The baby was very docile, and a little confused when it ran into a glass door, so Abi held it for a little while.
Soon it was doing fine, and joined its mother in a nearby tree.
A few days later, Matt came home with another box, another temporary pet: a tiny, scared bunny, that was quickly named Charcoal and given a temporary home in a tall planter. Very temporary: in less than an hour Charcoal had escaped and hidden either under the low decking or under the wooden storage building in the yard. "Temporary" quickly became "we can't catch her!"
And so: we now have a pet rabbit living in our back yard. We didn't choose her, but I guess she chose us!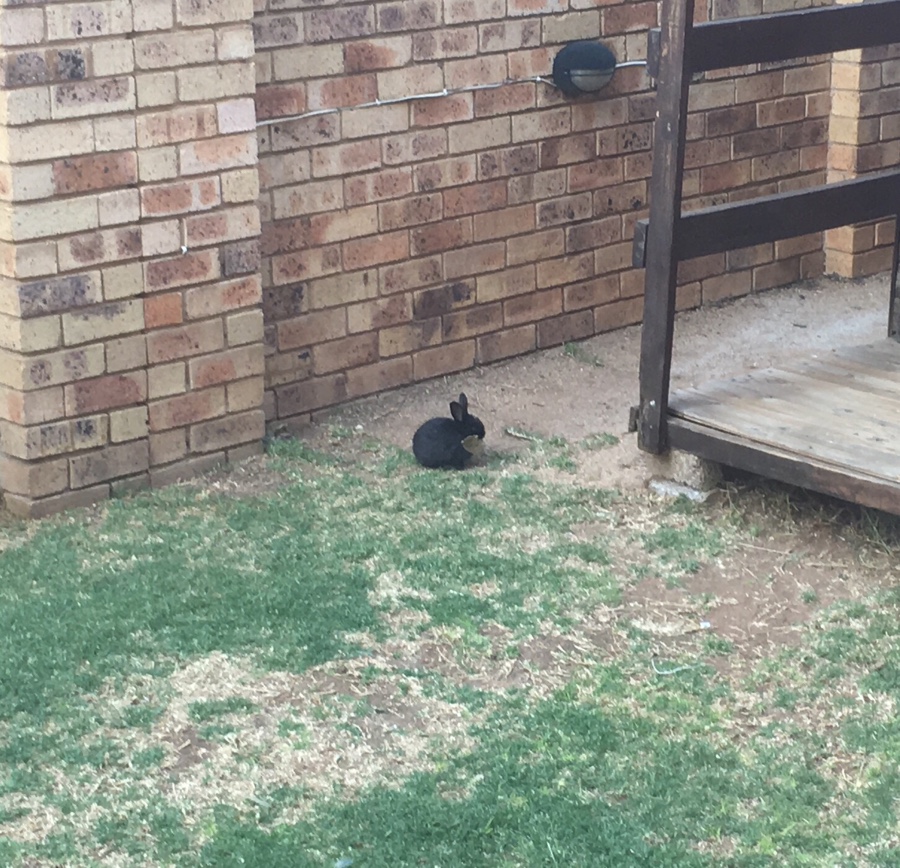 She eats leaves (like in this picture), but prefers red hibiscus flowers. She has been with us more than a week, and if we ever do catch her, I'm not sure if we would take her back to the church property or if we would keep her. I'm guessing she would stay! So much for temporary!