There almost aren't words to describe how excited we are about what the Lord has accomplished. Our last blog post related some pretty amazing events – after 2 years of trying to get International Bible Fellowship registered with the Malawian government, and 9 months of waiting and holding on to our visa paperwork, the Lord orchestrated the accomplishment of both of these in just a few hours. Wow! What an amazing work the Lord did to get all that taken care of in the perfect time. In the back of our minds though, we knew there was one more hurdle that we were facing – the container. It had arrived in Lilongwe, but the process of clearing a container can be long and arduous. I've heard of people waiting 8 months for their container to clear. On top of that, we'd been counseled to hold $2,000-$3,000 to pay duty fees.
As much as the Lord has stretched and grown our faith and we have seen Him faithful so many times, I do have to confess that this thought passed through my mind: "We've already used up our miracle on the paperwork." Oh ye of little faith! And so the Lord proved Himself faithful and gracious far beyond my small understanding…
Brian Biedebach went right to work on getting the container cleared. He talked to people on the phone, went to see other people, waited, called the people back… he worked really hard. And the Lord paved the way with every step. The answers that at first were "absolutely not," became "call me back at 2pm," and ended up being "no problem, we'll be there at 3pm." The crane operator just happened to be available, the men working for Brian stayed late to unload, and our container was entirely unloaded the day after our visa paperwork was processed. The container had been in the city only 2 days, and it was cleared and finished, with no bribes and no delays.
This is a miracle in and of itself, but even more amazing – they charged no duty. We were granted an exception. We didn't ask why, and we don't know exactly why. Everything in the container is a personal item, and technically we are allowed to bring in personal items duty-free for the first year we live in Malawi, but this never actually happens. All we know is that the Lord has been very kind to us. We are so amazed at God's wonderful grace to us!
So everything is there! It's all unloaded into Brian's office, just waiting for us! We're the only thing that's missing at this point. We're still waiting on monthly support, but after such great miracles in Malawi and God's demonstration of care and kindness towards us, we know God can provide that too. Our God is much bigger than the small things that I worry about. I've been reminded that our lives (and possessions) are in His hands and God chooses to be kind to us in His own time. I'm willing to wait for that.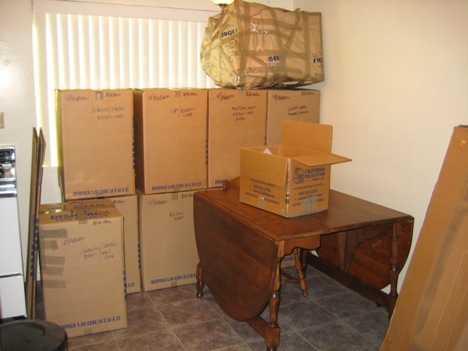 Everything was packed up in our apartment on January 19th….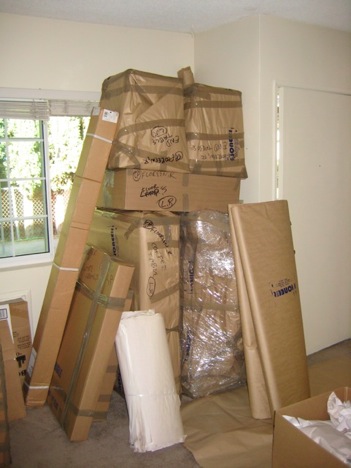 … just waiting to be packed in the container on January 20th.

The man who packed the container joked that he qualified for this job because he didn't go to college but spent all day playing Tetras. Let me tell you, he was REALLY good at his job!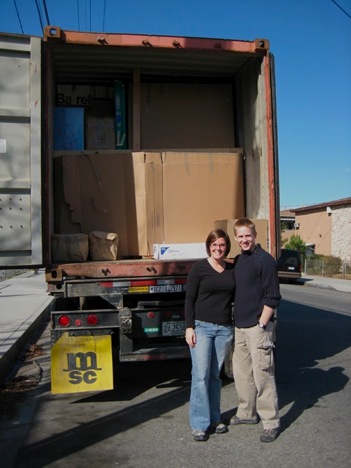 Who knows if we would ever see it all again? Between pirates and stormy seas, we didn't know what our chances really were.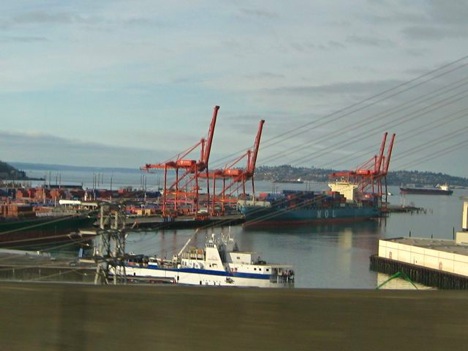 While driving through Seattle on The Great Floreen Roadtrips, we spotted container ships in the harbor. There are millions of containers! Somewhere out there in the great wide ocean was our little container.

We tracked the container online from Houston, to the Bahamas, to South Africa, all the way to Beira, Mozambique. From there it was trucked to Lilongwe, Malawi. Click on the map to see all the details in a Google map we created.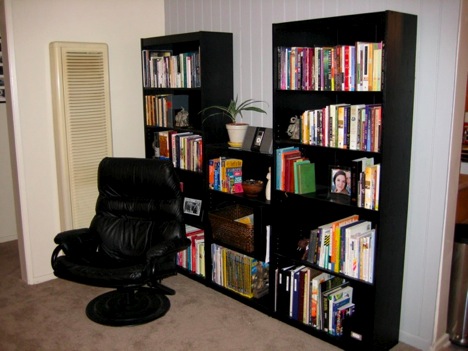 We've almost forgotten what we shipped. Wow! Bookshelves! I forgot we had those! And books! =) And the Lord has provided for it all to arrive. Praise the Lord! His kindness to us is far beyond our understanding!