Rachel Lawson and Raqel Cherry tag-teamed a 2-part series on the trip to Mozambique. Here are the first 2 days…
(Rachel Lawson)
My team and I spent an unforgettable weekend in a rural village in the beautiful country of Mozambique. Matt, his parents, and three other people from IBF came with us as well: Kondwani Nyanda who is the pastoral assistant at IBF, Clifford, who is a student at ABC, and Dr. Larry Brown who is a professor there. We spent time with Brian Mtika's church; he is a Malawian missionary who has been in Mozambique for five years.
We packed up the Kombi (VW van) and headed out Saturday morning. Once we crossed the border between Malawi and Mozambique we drove on a highway for a while until we reached a turnoff and drove down a dirt road, which took us 20 kilometers into the wilds of Mozambique (in other words, the bush). Kondwani was our driver and did a marvelous job at maneuvering around really rocky and rough places along the way. Even though the exhaust pipe managed to break off at one point he still holds our confidence!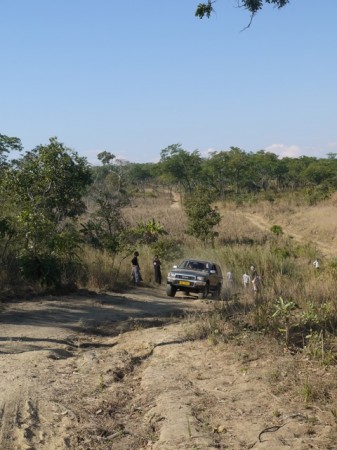 When we arrived at the church in the late afternoon we were warmly greeted by a crowd of curious and excited kids surrounding us. The language barrier was clear to us right away. We immediately felt the need to talk with them, to learn all about who they were…but we did manage to smile and make funny faces. That evening I was able to watch some women of the church make our dinner, and even help out a bit by cutting some lettuce for the relish. The menu consisted of nsima, relish, and chicken, which were all cooked over the open fire. Nsima is a thick cream of wheat type food and takes muscle to stir it in the pot. I was amazed at how strong these women are, and how they have the technique of stirring the nsima down to almost a dance.
After dinner we showed the Jesus Film, which about 50 people came to see. The projector system wasn't working, but we were able to use a laptop. The screen was small, but the important aspect is that the Gospel was heard.  The most memorable moment of the day for me was eating under the cover of moonlight. Words can't describe how bright the moon was and how it cast dreamy shadows onto the ground. It was so bright we didn't need flashlights at all. I was struck by the beauty and grandeur of our Lord's creation, and how small I am. Like the psalmist states in Psalm 8, "when I consider Your heavens, the work of Your fingers, the moon and the stars, which You have ordained; What is man that You take thought of him, And the son of man that You care for him?"
(Raqel Cherry)
Sunday we woke up to a crisp morning, to say the least. We were far from being the first ones up as the women in the village has already been up long enough to walk from their homes, some of which were 3 or 4km's away, to the church grounds to start the breakfast fires and boil water for us to have a warm water to freshen up with. Rooibos tea and toast by the fire made for a great breakfast –the first few attempts of toast were just warm bread as no one could hold it close enough or long enough over the flame, until Matt and I had the ingenious idea of using sticks instead of our hands. Right then Matt found the perfect stick and everyone was able to enjoy some thoroughly fire-scorched toast.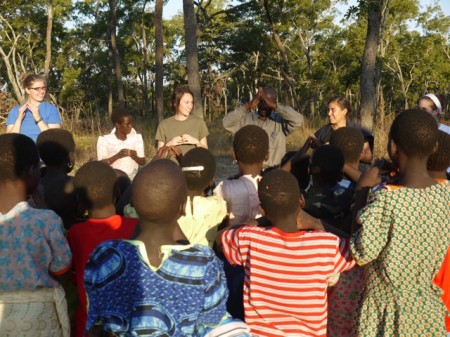 Our first official (well as official as it gets in an African village) part of the day was the little kids Sunday school that Kim taught while Clifford translated. We quickly learnt how to sing "Peace like a River" in Chichewa and then taught it to the kids. Kim then taught through all the days of creation complete with actions for every day. They then motioned to us that it was time for us to all go into church and so we followed them in, all the girls (well almost) sitting on the left side and all the boys (including our female team leader –Kim who was oblivious to this separation until a little later into the service) sat on the right.  I felt blessed to stand and worship alongside the congregation despite the fact that I couldn't understand anything they were singing. We were all content to observe fellow brothers and sisters in a completely different culture to ours, sincerely praise God and know that He was getting the glory regardless of whether or not we could understand the words. After we got to enjoy more worship songs performed by the Church elders and the women's guild, Kondwani preached on Psalm 23. It is so encouraging to see this ministry in a village that seems to be out in the middle of nowhere, knowing that there is a church back in Lilongwe supporting and praying for them.
After church we got to experience goat intestine added to the regular lunch menu, from a goat that we had seen tied to a tree near the kitchen area earlier that morning – talk about organic, this village gets it. Later that day we set out for a nearby village where we were going to show the Jesus Film that night. The walk was about 4km which took us a good two hours, good because the squabble of kids walking with us held our hands and sang for the whole walk, making it feel as if 4km was our usual afternoon stroll. The venue was a thatched hut with a lovely flattened area in front where we were going to screen the movie, open air, once the sun had set.
We had time to kill until dark so we taught the kids more songs (particularly "Making Melodies" which was an instant favorite) and then played the most epic game of "duck-duck-goose" or "baka-baka-nkanga" with almost 50 kids and a few adults who couldn't resist the fun. Finally after another breath-taking sunset the darkened sky let the moonlight creep into its nightly routine of leaving us awestruck and JP introduced the Jesus Film to a brand new audience. When it was done we trekked back, with the path lit only by the moon, to the village we endearingly called home for a few days. We were greeting with the familiar smell that quickly ended Kondi and Matt's hungry grumbles as we grabbed plates to dish up more goat, chicken and nsima. After enjoying fellowship around the fire we all went to bed happy and thoroughly exhausted.