The second half of Rachel and Raqel's series on Mozambique. Don't miss the first part!
(Rachel Lawson)
Weeks before this trip we were told that we were probably going to be doing seminars in the village, and so we prepared different topics to speak on. However, Pastor Brian told us that the people needed to hear different topics than what we prepared. The turnout also was smaller than expected; it was mostly the elders and their wives who came to listen. For the first seminar Matt's parents (Eric and Lorraine) spoke on the Biblical view of marriage. Dr. Larry Brown then held a Q and A where they were free to ask any questions. I enjoyed listening to all the questions they had, and Dr. Brown answered them very well. He made it clear that he was willing to stay as long as necessary to answer all their questions, because they might not have this opportunity again for a long time. They asked questions that were relevant not just to them, but to Christians in America as well. It was just awesome to see that even though we come from totally different cultures, we still struggle and wrestle with many of the same issues.
After the seminars Bobbie and I went with an elder of the church to his hut, which was about a two-mile walk. Clifford came with us as a translator, since none of the elders speak fluent English. The man wanted us to bring back gifts for our team. When we arrived at his hut his wife and three small children greeted us. His children's eyes were wide at seeing two azungu (white people) so close by. We sat on bamboo mats and helped crack peanuts, which we brought back with us. We also brought back cassava, which is a root similar to a sweet potato. After the nuts were roasted and salted we were able to eat some, and they tasted just like peanut butter! Hands down peanuts are ten times better in Mozambique than anywhere in the U.S. We also were served the sweetest tea I've ever tasted; it was so delicious. I was struck by how generous he and his family were, even though by our standards they have hardly anything. Clifford said that because they showed such hospitality towards us it showed how much they respected and welcomed us. Time flew by there and we ended up staying for a few hours.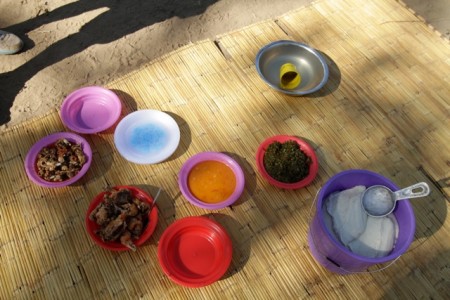 The walk back to camp was breathtaking as the sun was going down. I wish I could go back and replay those moments. One thing I'm going to miss greatly are African sunsets, they're just not the same in North America…. still beautiful, but just different. Isn't it amazing that the Lord delights in painting the sky for us to enjoy? The one that night was perfect, a perfect masterpiece painted by our Creator!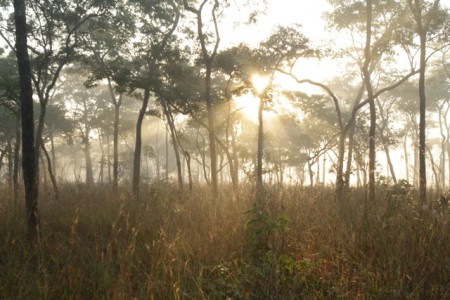 (Raqel Cherry)
The good news for Tuesday was that the Kombi was successfully patched up, with the muffler and exhaust pipe attached well enough so that we would hopefully make it home, or at least the 20km of dirt road till the tar road started. It was a bittersweet morning knowing that we would be leaving that day and I think most of us were surprised at how hard it would be to leave the village and the people we had just started to get to know. We packed up the tents once they had dried a little from the morning dew and we were ready to start saying our goodbyes, but that was not what the villagers had in mind.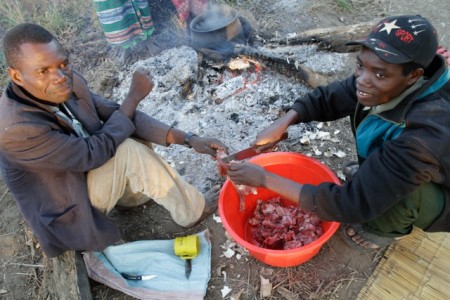 About an hour after our breakfast routine of toast and Rooibos, we found out the elders had made sure another meal was made for us complete with everything from goat to cassava. We didn't have time to stay for lunch so we ended up having a very big second breakfast. Kondi and Brian Mtika then translated the exchange of farewells which made a few of us tear up. It's amazing how quickly we attach our affection to things in this world and it was beautiful to be reminded in the goodbye from the elders, that they would love to see us again, but if not we will meet in heaven. This beautiful concept is completely unique to us as believers, that the most important things in this life are those that concern eternity and in Christ we all share heaven as our common end. This was huge in putting a lot of things into perspective for me. It's something I think that we can all learn from when we look at our own lives and how we all spend our time. I am so grateful that we had this opportunity and for how God used it to teach us all so much, especially about His global body of believers. We eventually left, to a farewell of singing and dancing from the villagers; we momentarily joined in, still sticking out – not just because of our skin but also our inherent lack of natural rhythm.
Kondi mastered the dirt road getting us successfully back to the tar road, but this time Matt wasn't quite as lucky and his vehicle ended up getting a flat before we were even half way done. Luckily there was a spare and enough manpower to sort that out and we were soon on our way to the border. We had a relatively quick transition back into Malawi and a reflective drive back home. Oh –I can't forget the freshly baked chewy chocolate chip cookies Rachel blessed us with when we walked through the door, simply delicious!