Certainly the highlight of our trip to Malawi last month was the opportunity to connect with people. Over the course of the week that we were there, we were able to go to church twice, to attend a mid-week Bible study, to have lunch with a couple different families, to hang out with the church youth one night, to go to a community potluck dinner, and I got to go to 2 women's Bible studies. We were soaking it all in as we went, so tried to interact as much as possible without being awkward and overly talkative. =)

Kondi and Patricia. Kondi has been a friend of Matt's since 2001. Matt even went to take pictures of their wedding last December.
The variety of forums in which we got to interact with all the people – in International Bible Fellowship and in the community – reminded us of why it is so important for us to join the ministry there as soon as possible. While we were there, Brian preached in church, preached in chapel at African Bible College, taught 2 college classes on homiletics, led youth group, led the mid-week Bible study, spent time preparing for all these, and spent good and intentional time with his family. I was tired just watching him! But he loves it. He loves to preach and to teach. Matt and I are so excited to jump in and help with some of the practical, administrative, and discipleship aspects of this ministry, and to spend our time encouraging and training others in the church to be active in the ministry.

Brian preaching on Sunday morning
And it's all about people – the church is all about people loving Jesus more and more each day, spurring one another on to love and good deeds, learning to serve and minister to one another, and doing it in the context of biblical community. We got to meet these people! We got to see their love for the Lord and their desire to learn of Him and grow in their understanding of Him and commitment to Him.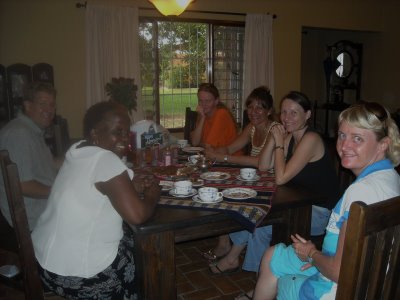 This pic I swiped from the Biedebach's blog. =) Click on the pic to see their blog.
I was speaking with one sweet lady, and she is just in the beginning of this journey. She was telling us that she has learned so much in the 3 months she's been at the church, and that the Bible has the answers! God tells us things in the Bible! And we can read it – it's right here! Her enthusiasm warmed my heart, made me want to love her and help her in any way the Lord would allow, and at the same time, made me want to cling to the truths that she had stated. This is ministry, being able to walk with people like this.
I am excited about many things about Malawi, but the people I met there are at the top of the list. I've been praying that the Lord would stir my heart to love them more each day, to pray for them, and that He would prepare me for whatever role He would have me play in their lives – whether that's speaking the truth of God's Word into their lives or encouraging their heart with a note on a heavy day. God is the orchestrator of all these things. I just want to be available and ready to go with whatever He has planned.