The pre-Church Camp post may have sounded a little bit excited about Church Camp… but 4 days of fun, fellowship, and good Bible teaching did not disappoint!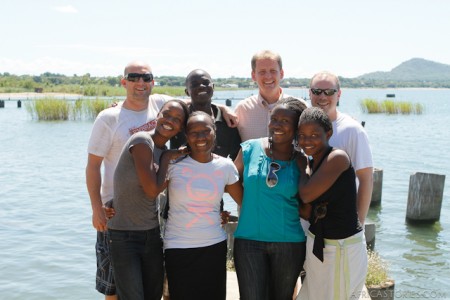 Brodie, Jon, and Matt – the FBC team – with the help of 5 African Bible College students, ran a 3-ring circus for us: teaching for the adults, a kids' program, and even a nursery.
The adults studied Romans chapters 4,5,6, & 8 over the 4 teaching sessions.  We looked at how we, as believers, are to live out the gospel in our every day lives, and how Christ's resurrection confirms that gospel work in our lives.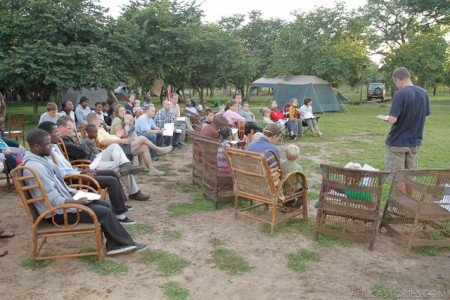 The tie-in between the resurrection and our sanctification was fantastic, as our camp was over Easter weekend.  A few early risers gathered for a sunrise service and we enjoyed the chance to sing praises to our risen Savior!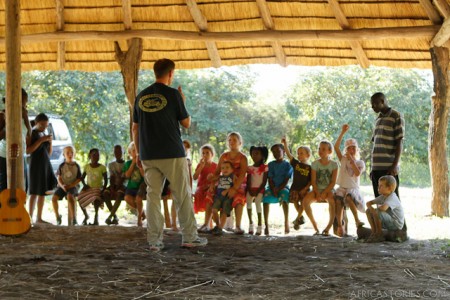 The kids learned about Bibliology – all about the Bible.  They came back from their sessions quoting Bible verses, singing silly songs, showing everyone their crafts, and acting just like… well, just like they'd been to camp!  I'm pretty sure most of them would have voted to stay at camp for weeks!
The adults enjoyed a few games too.
Our location was great for walks and game drives, so groups would go out during free time to see sable, zebra, giraffe… some of which came to camp to visit us!  Other people would collect at one camp site or another for coffee, long chats, or a pick-up volleyball game.  It was a great time of getting to know one another better!
One of our great hopes for International Bible Fellowship Church is that we would become a church family, and that our fellowship would be genuine, Christ-centered, and welcoming to others.  This camp was one of those times, and we're eagerly looking forward to next time!