One of the weekly ministries of International Bible Fellowship Church is coordinating a church service at Maula Prison. Charles Msukwa, an IBF church member who was saved in prison years ago, heads up this ministry.  Charles knows first hand what these men need – they need Christ.  God has blessed Charles with a servant's heart and the gift of evangelism and compassion.
Charles with his wife, Ellita, at the IBF Christmas Party
Preaching is central to this ministry, but there are also other ways IBF ministers to the men and women of Maula Prison.  We have collected school materials for them, have made sure they have clothes and transport money when they are released, and for those who have been regularly attending, we write a letter for the inmates to take as they make an effort to rejoin their home church.
Matt, Brian Biedebach, and many other men from our church have gone to the prison with Charles to preach.  It is such a great opportunity that we couldn't let the FBC team go home without going to prison first!  So we sent them off to spend their last morning with Charles at Maula Prison.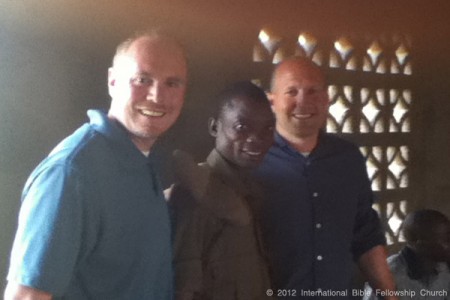 Jon Buck had the opportunity to preach while Charles translated for him:
 
We'd appreciate your prayers for this ministry of the church – for Charles as he coordinates, for more men in the church to come alongside Charles in this ministry, and for the prisoners, that they would come to know Christ and to grow in their faith.