We're a bit busy around our house these days… which would explain why the post entitled "Around Our House Today" didn't get written for a couple days and so didn't qualify as "today" any more.   =)  But like we said, we're busy, so late is better than never! 
Here are a few of the things going on around our house right now…
Ladies' Bible Study meets at our house every Tuesday morning. Â We've averaged about 8-9 ladies every week, and we're still enjoying the study through the Bible one book a week. Â We just finished Psalms, and are on to Proverbs next week!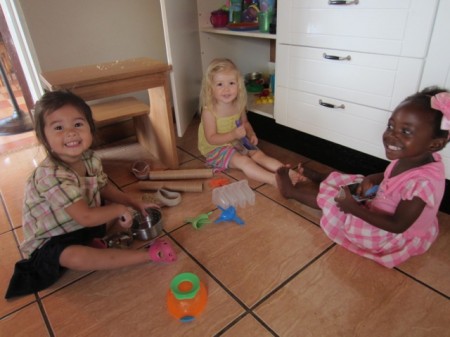 As 2 1/2 year olds, these three little ladies make our house a busy place! Â (Yes, they were all born within a couple months of each other!) The Ayres family has been living with us for about 2 1/2 weeks, and Moriah Ayres is fitting right in! Â Abi is, of course, enjoying playing host and general rabble-rouser. Â And Rejoice, our housekeeper's daughter, looks sweet and innocent, but she's right in the mischief with Abi!
It's rainy season, so the grass is green, the gutters are flowing, and the ferns, palms, ginger, and heliconia are lush and happy.
The grenadilla are happy too. Â We're picking fruit off the vines almost daily and enjoying grenadilla lemonade.
You know the people who collect spare cars in their front yard? Â I feel like we do that with laundry appliances. Â No really, there's an explanation for the 3 dryers and 2 washers on our back porch. Â 2 dryers and 1 washer are broken. Â And the one washer that does work isn't ours – it's the Ayres. Â The guys mistakenly brought it over to our house when the container was unpacked. Â We do have a new washer that came on the Ayres' container, so it will come, the Ayres' washer will go, an old dryer will go to be fixed, and then… somehow we'll still have 5 appliances on our porch. Â We are those people. Â At least it's not cars…
Titus (4) and Caleb (6) Ayres jumped right into school the week after they arrived. Â School starts at 7:15, so they are up early every day! Â And then they come home just before 1pm to work on homework – these guys are busy learning and making friends!
Matt and Abi had a special father/daughter project morning. Â It was a bring-your-own-toolkit kind of event. Â They were blocking up holes under our gate and in our drains, because…
We got a puppy! Â The Ayres got one too, so it's puppy town around here now! Â Samson is our new little guy, and he looks very much like his dad, Simba, did when we first got him! Â Simba's a little jealous of all the attention everyone's giving his kids.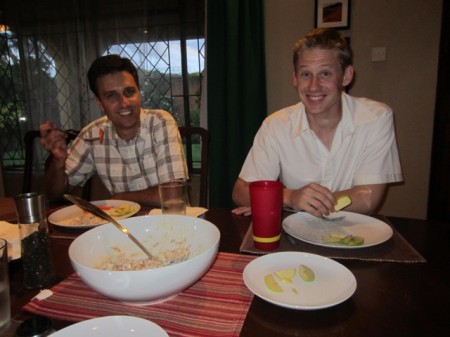 Mac and Cheese night. Â With all the kids in the house, we've eaten a few more kid-friendly foods lately. Â The big kids didn't seem to mind either.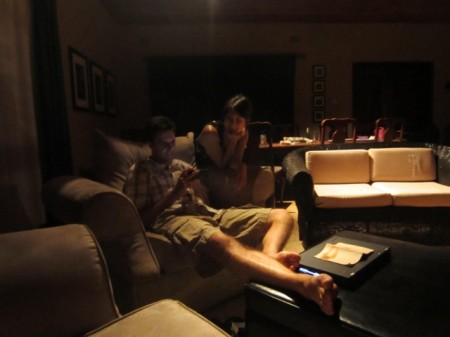 And we still get our regular, and not so regular, power outages. Â Here Bethany's looking over Jim's shoulder to see pictures of light fixtures he found in town during the day. Â Those two are spending a good part of each day, and several hours each night, working on plans and changes for their house. Â It's coming together, and I know they're all eager to open all the boxes that came on their container and make that house their home!