We've been back in Africa for more than a month now, and I'm finally finding time (and electricity, but that's a story for another blog post) to write about our 105 days in the USA.
It occurs to me that going on furlough is unusual for some of our readers.
We're certainly not the only couple to take their young kids around the world for months of travel. But it's definitely not exactly commonplace either. So here's my attempt to capture how it feels to visit the-country-we're-from-but-don't-live-in-now.


(CUTE KIDS ALERT: We have a "don't just blog about your kids" policy, and I'm shamelessly taking a hiatus from it for this one. Half of the fun of furlough was seeing things through our girls' eyes. If you don't like cute kids, you can keep scrolling to find other posts about big bugs and stuff…)
Let me start by sketching the framework with some furlough stats:
We spent 15 weeks in the USA
We stayed in 16 different houses (+1 hotel)
We spoke at 22 different churches or Bible studies
There were some flying parts:
We flew on 11 different airplanes
We flew 23,000 miles internationally and 5,000 in the US
We had 3 planes leave without us
We got 3 free seat upgrades (except we needed 4 seats – poor Naomi was left out!)
And there were some driving parts:
We drove 4 different cars
We drove in 9 different states
We drove 9,000 miles (which meant 2 oil changes)
At the heart of all this globe-trotting  was our desire to better connect with our ministry partners. Our service to the church in Malawi couldn't happen without all the people back in the US who faithfully pray for us, support us, encourage us, connect us with resources, visit us, and stand behind us in countless ways. (We thank God for you people!) We also are looking for others to join us in partnership for the gospel.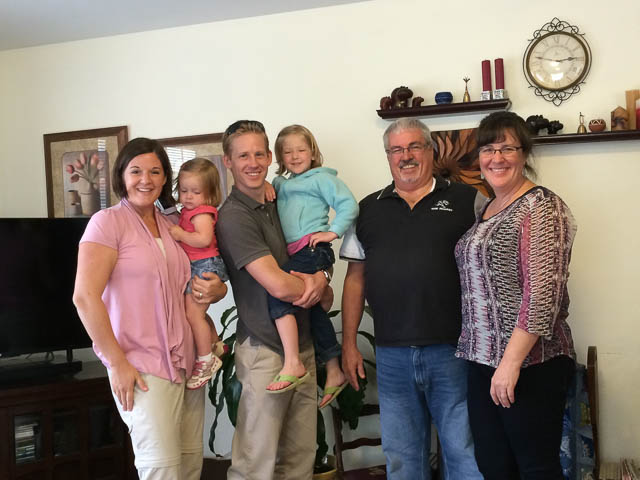 In that respect, this was our best furlough yet. It was wonderful to share true Christian fellowship with so many people we don't often see. We enjoyed every opportunity to tell others about the Lord's work in Africa. It was also a huge blessing to hear testimonies of Christ continuing to build people's faith. We returned to Malawi feeling physically tired, but spiritually encouraged.
While that was certainly the most meaningful part of our time in the US, there were several additional benefits too. Here were some other highlights, according to each member of our family.
Matt enjoyed:
Mexican food
Introducing the family to some Pacific Northwest favorites
Being a part of several big family events
Rachel enjoyed:
Trader Joe's
Getting our girls together with their cousins and grandparents 
Catching the fall colors in Connecticut 
Abi enjoyed:
Libraries 
Escalators and moving sidewalks
Seeing skyscrapers for the first time
Naomi enjoyed:
"Papa!" 
The aquarium 
Drinking fountains 
Since I've already given my disclaimer above, is it okay if I act like a proud dad and wrap up with a few more pictures of my girls on furlough?
Thanks for following along!