Remember summer days of drinking straight out of the garden hose? Well, we don't do that here in Malawi! We have a great water filter for our drinking water and for years we only filtered. However, about 9 months ago the city stopped treating the water for a period of time and we started researching the boil and filter option.
Ugh. Boil water every day? Not me, not in my house. I don't want to pay more for gas to boil 20 liters of water every day, and I REALLY don't want to heat up my house every day with 2 huge pots of boiling water! This is Africa, in the tropics, we're already hot enough! I'll just clean those filters again, and we should be fine!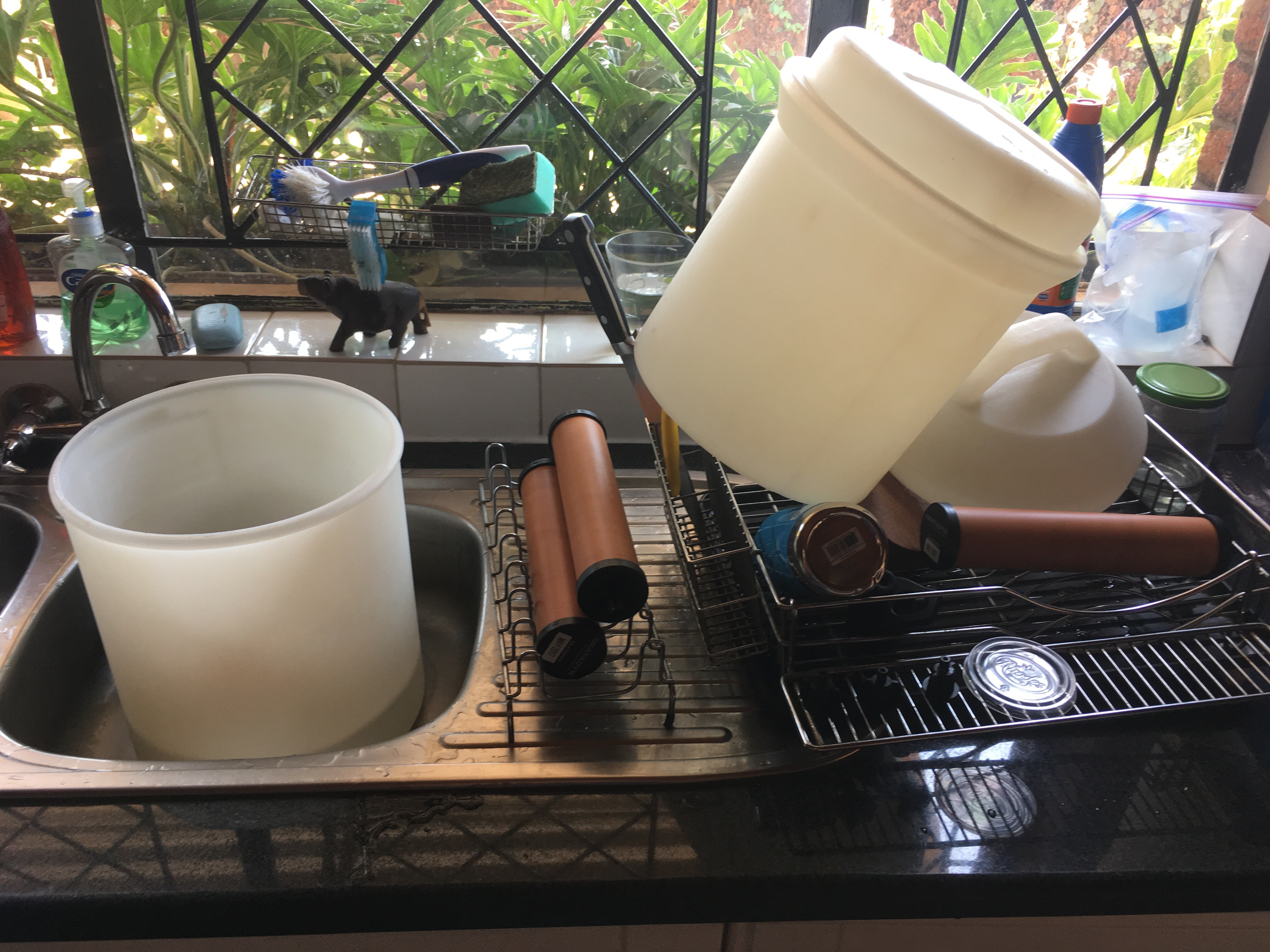 But then I learned the difference between how to get bacteria out of your water and how to get viruses out of your water. Our Katadyn Gravidyn filters remove something like 99.95% of all chemicals and bacteria from the water. But viruses are so small they just go straight through the filters. Boiling kills viruses. Done. End of discussion. I became a firm believer in boiling AND filtering water that day! I'm not even going to get into the details of the sewer pipe that leaked into the water main of the neighborhood just north of us… Boil and Filter is my new mantra!


So we fill up our two 10L pots with tap water almost every evening and bring them to a boil (which takes about exactly 67 minutes). We crack the lids and let them cool overnight, and in the morning we pour the cooled, virus-free water into the top part of our two filters. Over the next couple hours, the water works its way through the filters and stores in the bottom of the unit for easy access. Is it a process? Yes. Do we have fewer tummy bugs now? Actually, yes. Do I carry the water on my head. Um, yes… a 10L pot of water is too heavy to carry in front of me without spilling, so I lift it up on top of my head to carry it across the kitchen. Sorry, no selfies of that – I'm not that coordinated!


And that's how we get drinking water here in Lilongwe! We drink it, cook with it, and wash fruits and veggies in it. I'm thankful for the modern technology of such great filters, and for the ancient technology of fire that now rounds out our water treatment process. I do think that all that work makes the water taste just a little bit sweeter!