Welcome to our neighborhood! We moved into our house this past weekend, and are in process of settling in – which is better than opening Christmas presents! We haven't see our furniture since we packed up our apartment in January. Everything was wrapped in brown paper and packed in boxes, so it's like someone gave us the biggest present – all the stuff that we enjoy and picked out ourselves!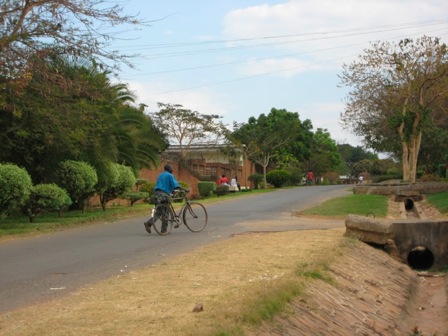 Here's the neighborhood – all residential and fairly quiet, and there's always people walking around and sitting in the shade to talk. It feels very neighborly.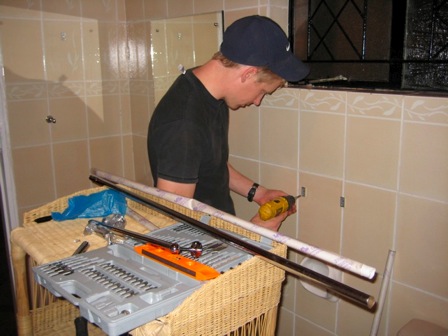 Matt put up towel rods in the master bathroom. We did quite a bit of work on the house.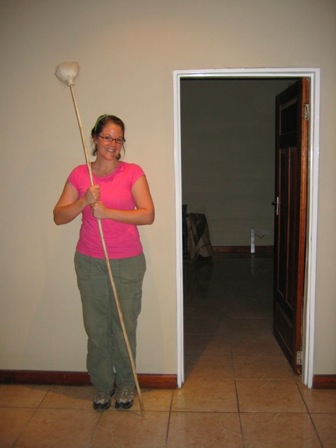 And then came the cleaning. Scrubbing bathrooms, wiping out kitchen cupboards, sweeping cobwebs off the ceiling…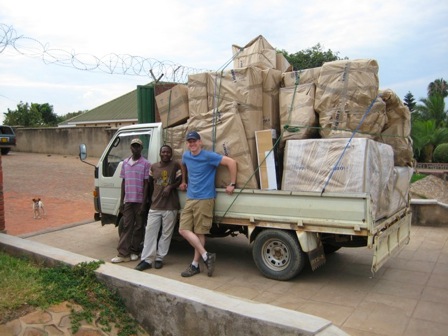 Here comes our furniture! Our friends Richard and Felix helped loading and unloading.
And in case you're wondering about Jack, the cute little dog in the picture above, no he's not ours. We're dog-sitting for the former tenants for a couple weeks. Wait until you see the other dog, the "lion!"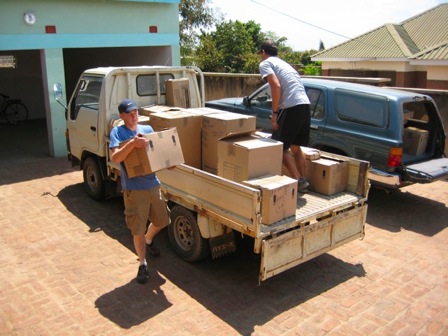 Kellen came to help unload too – thanks Kellen!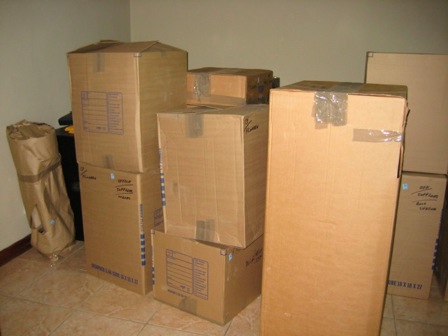 Boxes everywhere! Moving is over, now for the unpacking!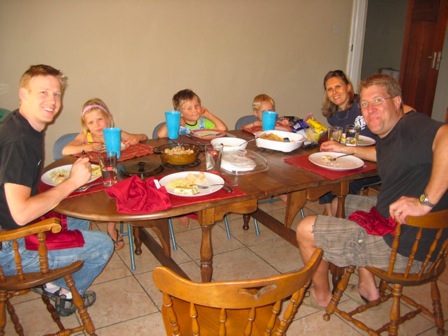 The Biedebach family came over to help and brought us lunch. It was so fun to have them helping us unpack and rediscover things! And thanks for putting our table together, Brian, so that we could eat lunch! =)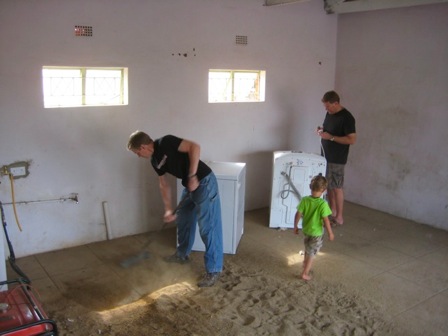 Lots of odd jobs go along with unpacking. Matt is sweeping concrete sand out of the way so that he and Brian can hook up the washer and dryer. Bradley is walking around and supervising.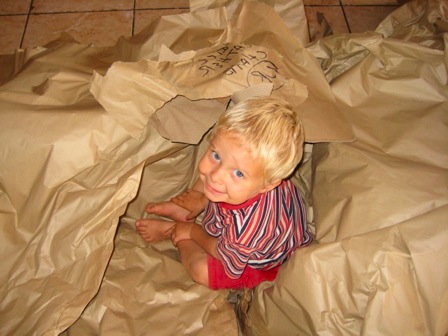 Benjamin helped by collecting paper scraps and sitting on the pile of paper so it didn't blow away.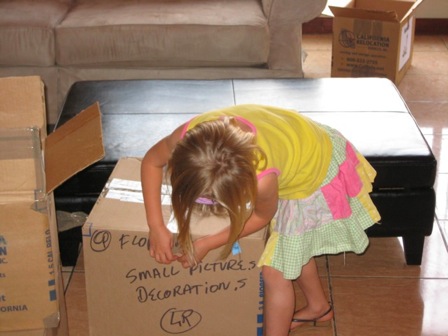 Ami did a fabulous job of unpacking and unwrapping – everything from our kitchen cups to our living room kids' toys! Thanks so much Ami!

And baby Allison just coo'ed, slept, and looked adorable.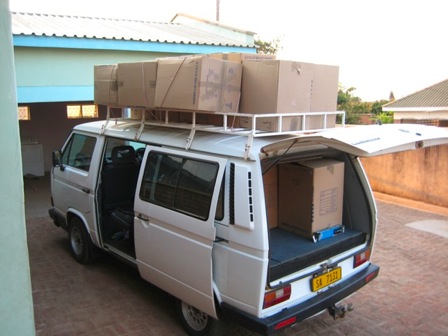 Many of our extra boxes went home with the Biedebachs, and we hear that Biede-Box City is currently under construction on the back veranda!

Ami takes a much deserved break to jump in the boxes and packing paper!
Thanks Biedebachs for helping us unpack, and thanks to all the guys who helped us move all the boxes and furniture! We pray that this house will be a place where people can be encouraged, refreshed, and directed to the Lord.