It was a great day for an adventure, so we went on one!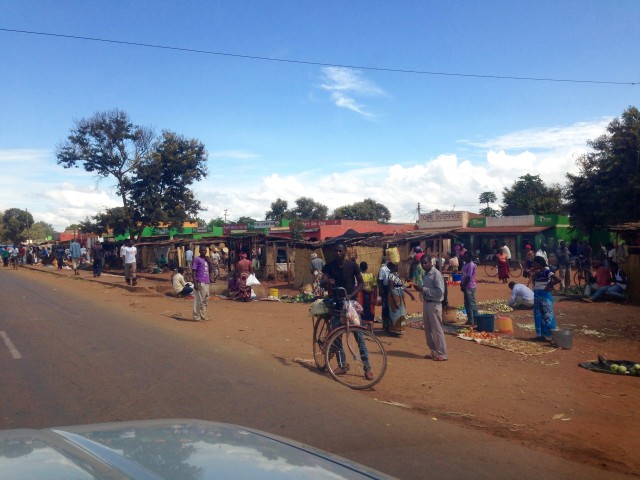 It started out kind of like this picture below, bright and a little fuzzy. We were all a little tired, and I think our life-without-dad threshold was reached on Friday evening at the 1 week mark. But we pushed through it, and our Saturday was off to a hopping start. We chatted with my parents at 6:30am again, about an hour later the electrician arrived to replace a light switch that was melting and smoking last night (!), then at 7:45, Carol and her sons stopped by for tea on their way to James's hockey tournament. By 8:30, we'd already had quite a morning!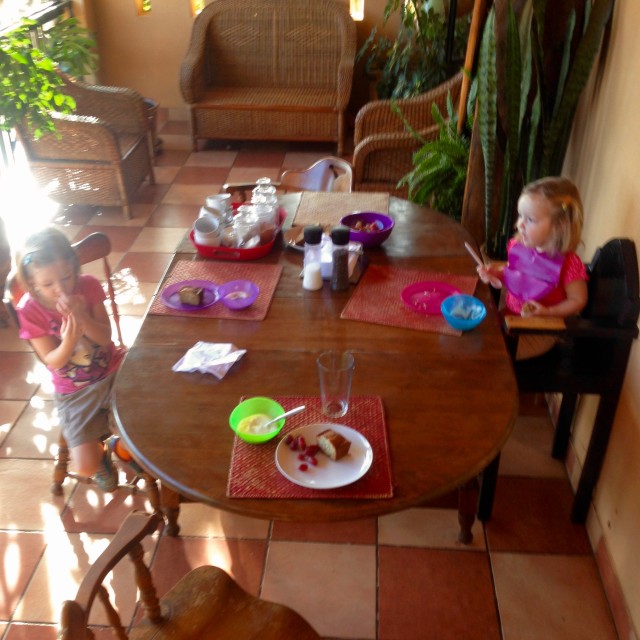 By 9:15, we met up with Anita and Bethany and all the kids to drive in convoy about 45 minutes outside of town for a day on the farm with our dear friend Rene!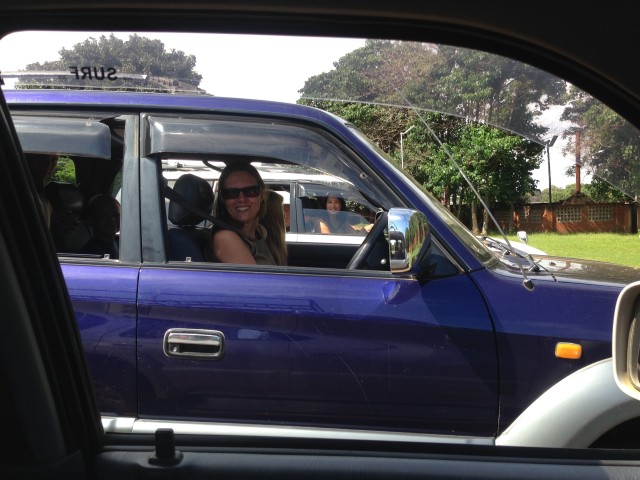 Hennie and Rene Pretorius live on a great farm, with a beautiful yard and lots of places to explore. It's every kid's outdoor dream world, even for little ones who are a bit shy.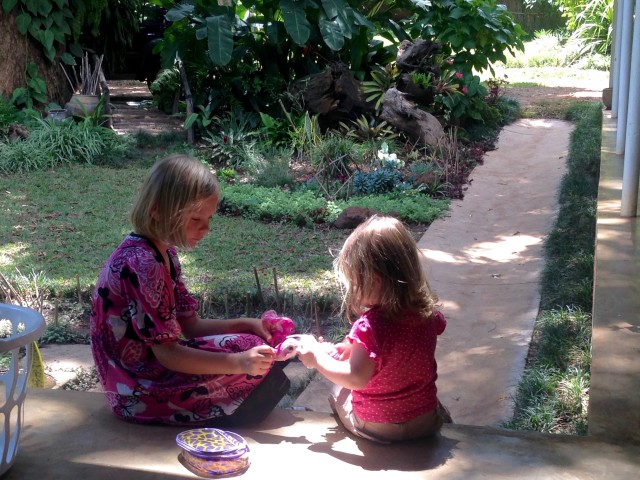 Alli Biedebach adopted Naomi and took little Miss Shy out exploring the grounds for a bit.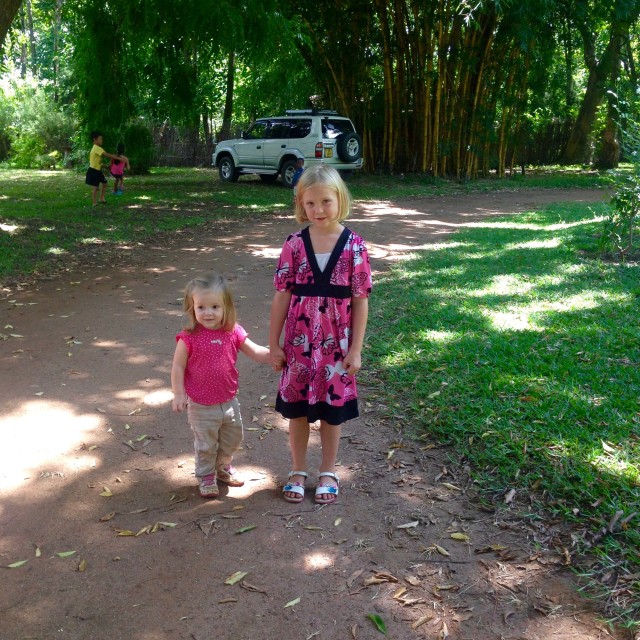 Abi and Moriah were virtually inseparable for the day – pushing one another on the swing (with brother Titus's help), running away from the boys, and organizing bean bag toss games.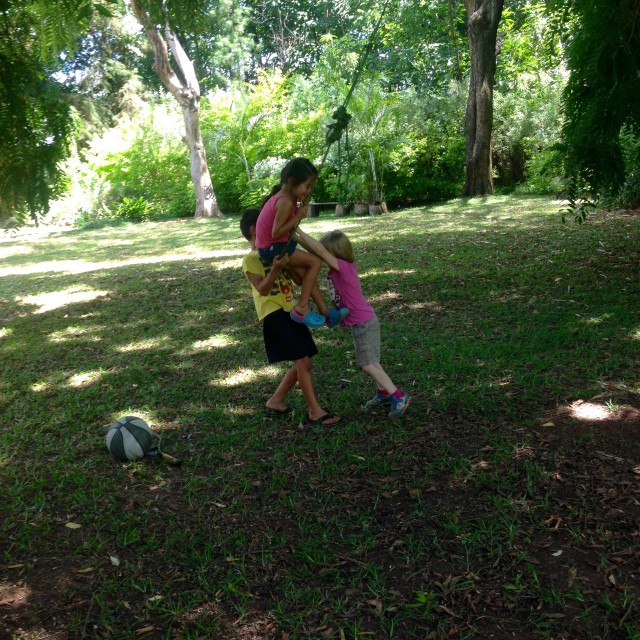 While Miss Shy was still being a little coy. Raggedy Ann helped her be brave.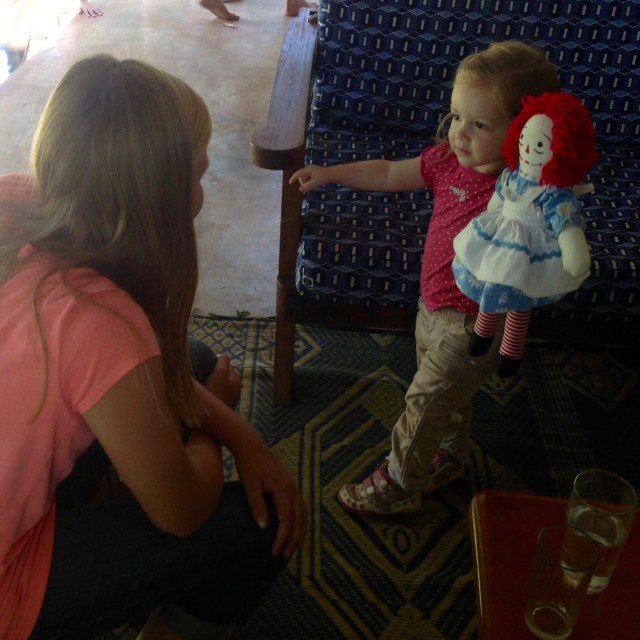 At one point we walked down the road to go see the cattle.
The cows are usually a little forward and will come right up to the fence, but it was hot, so they preferred the shade to us today. I don't blame them!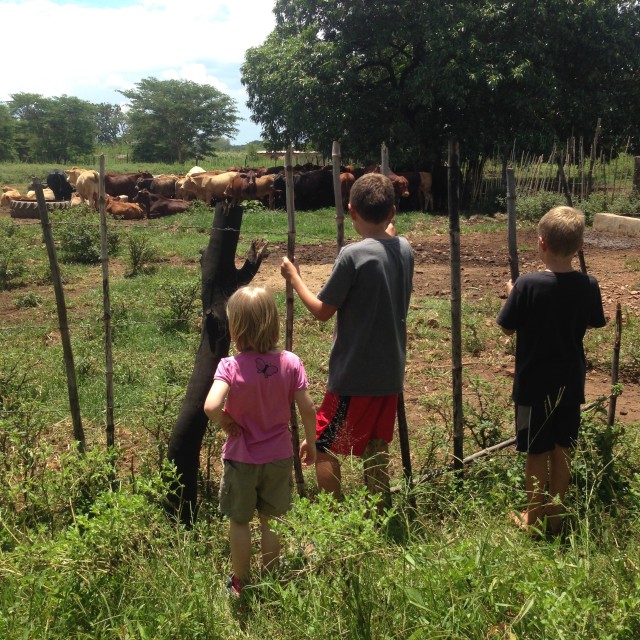 Back to the lush green canopy of the Pretorius's drive way!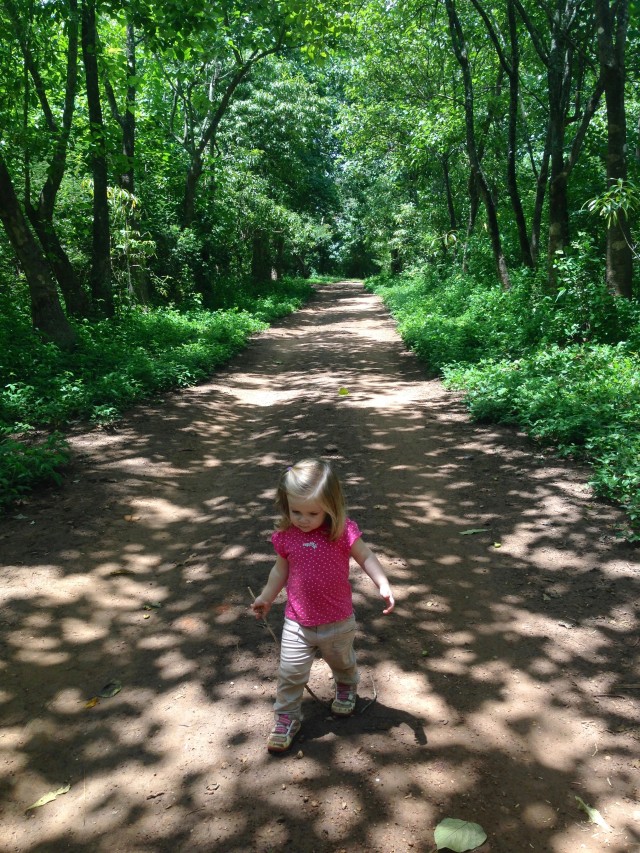 While the kids played, it was so nice to catch up with these two dear ladies!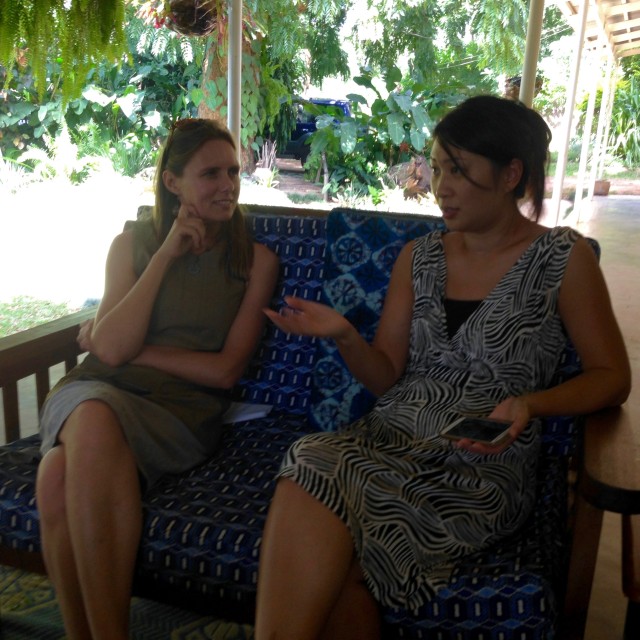 And with this gem. Tannie (Auntie) Rene is such a sweet friend to us. As Abi said when we were leaving "She is SO kind!" We always feel refreshed and blessed when we have the chance to spend time with Rene. We treasure her, and were only sad that her husband, Hennie, was out in the fields working all day.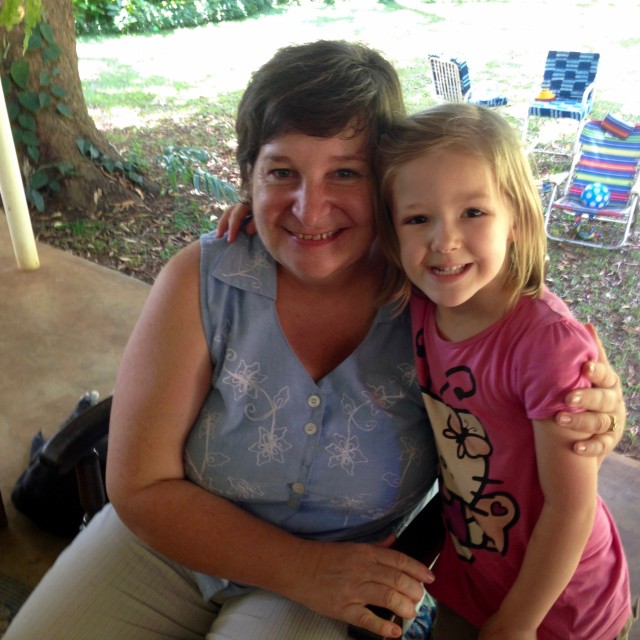 Back to town, on another of those glorious African days.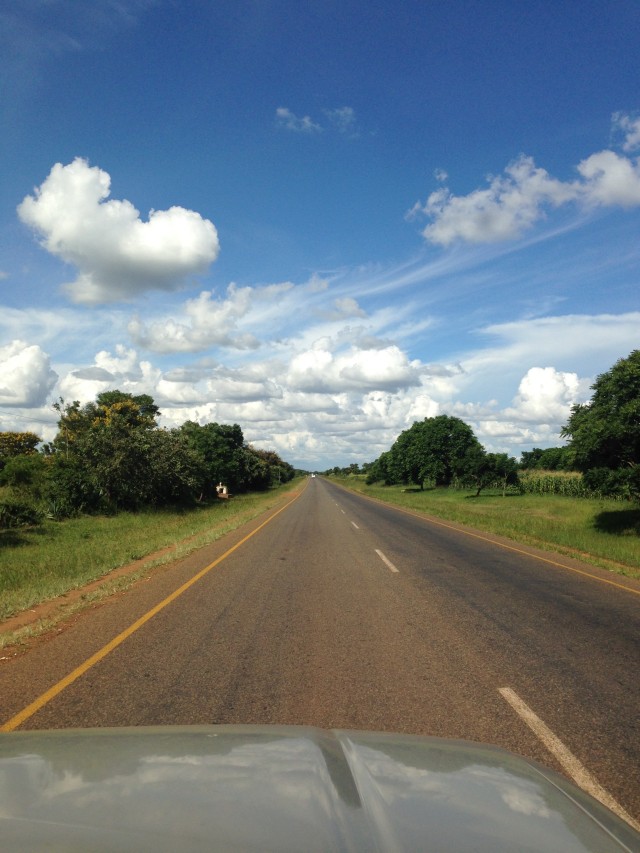 A quick stop at the tailor's on the way home gave us a rather pleasant surprise. ALL of the cushions were finished and ready to be picked up! So we piled them in and took our treasure home!
I may sew bedsheets, and I may have sewn the first covers for these cushions over 5 years ago, but I'm more than happy to have the tailor do these so quickly for me this time!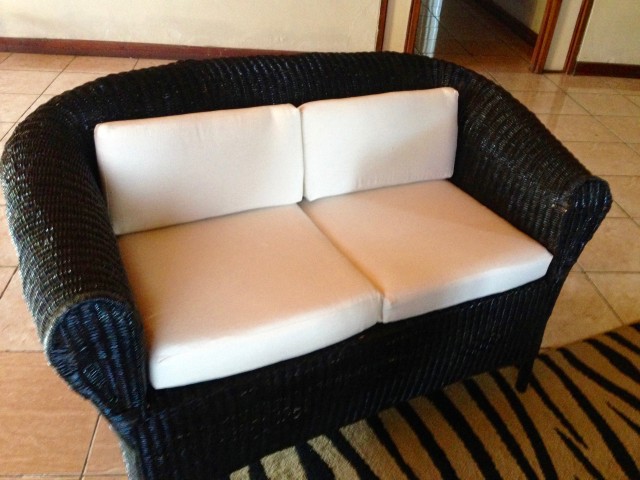 And they're well done. I'm very happy with them!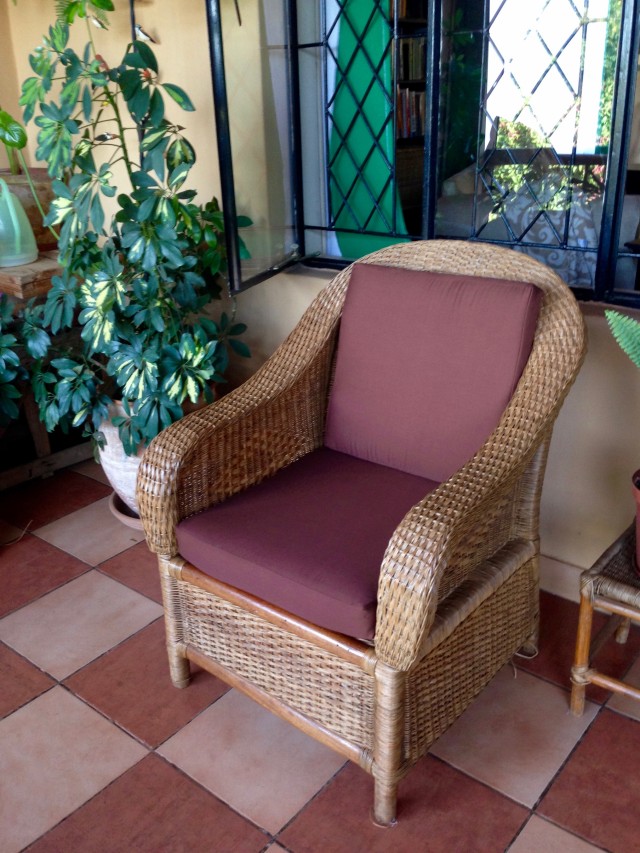 By the time we got home, it was time to make a little something for supper, so the girls clomped around on their tin can stilts for a few minutes, we ate a little supper, had some quick baths, and they went right to bed. They had played and enjoyed the day with friends so much that they didn't argue with going to bed a little early!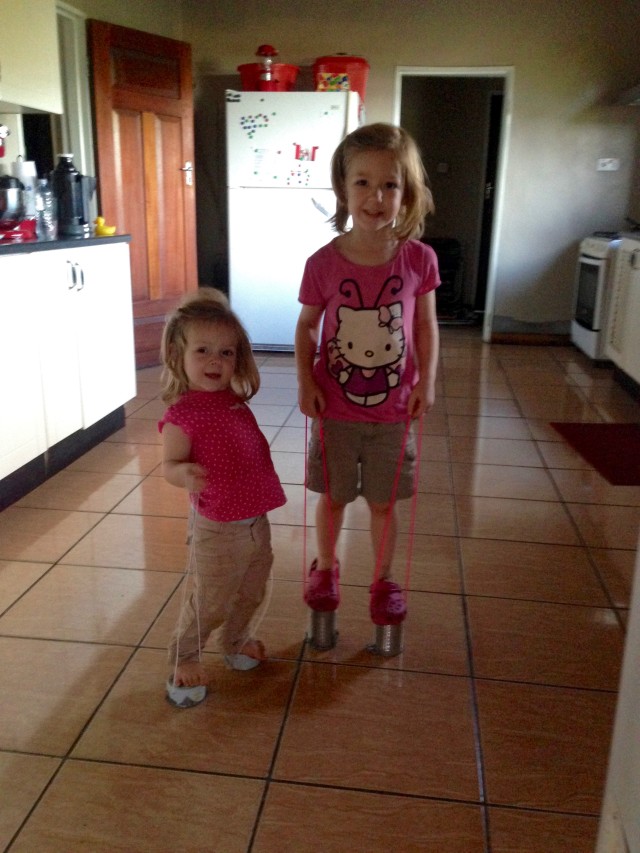 I figure they will need a little extra sleep tonight, because they won't have a rest time or a nap time tomorrow – because we're going to pick up Matt just after church! He made his flights, and we even Skyped with him when he was at the JFK airport in New York. So he's on his way! As they say here, one more sleep!