Tuesday morning brings Priscilla back to our house at 7:30am, so the girls spent their morning coloring, building train tracks, and reading books with her. I was starting to feel the pressure of a backlog of items that needed to be sewn – and the very strong desire to run away from the taxes I probably should have been finishing up today – so I tackled a couple more urgent mending jobs and then immersed myself in a fun sewing spree.
I spent about half the morning with this friend. I have a very old singer sewing machine also, and today they sat side by side as I moved back and forth between the two, but this overlocker machine is fantastic. Matt was pretty skeptical when I registered for it on our wedding registry, and rather shocked when we got it! I'd never had a "fancy" sewing machine before, but after almost 8 years of good use, I can't imagine sewing without it!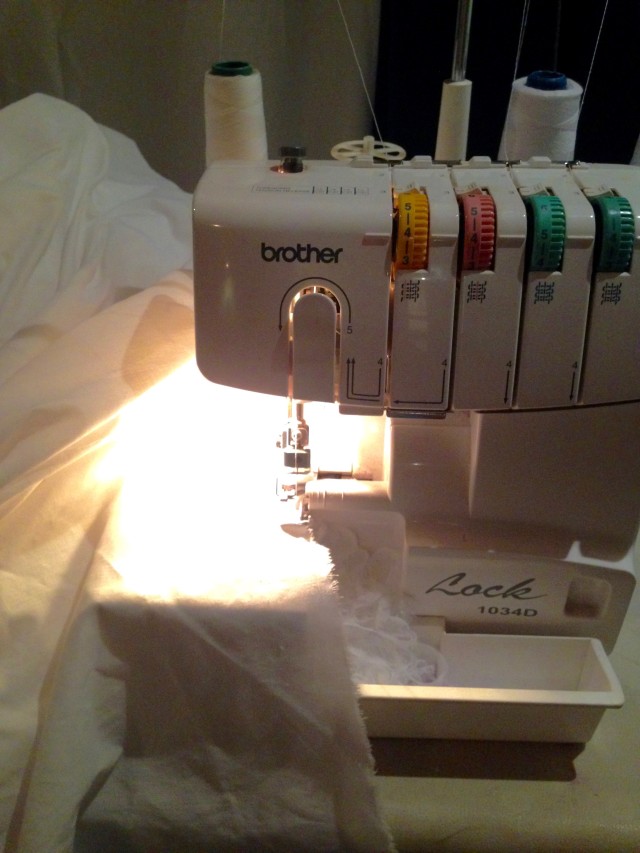 Today's fun sewing project also had practical value: bed sheets! Abi had come with me to the old part of town a couple weeks ago to buy fabric to recover the cushions on our wicker furniture, and I think it was she who discovered the sheeting material. She fell in love with the purple stripe, and when I showed her the matching solid purple (her favorite color), she did a little dance and laughed out loud! So she now has a purple fitted sheet and a striped top sheet. Â And she LOVES them!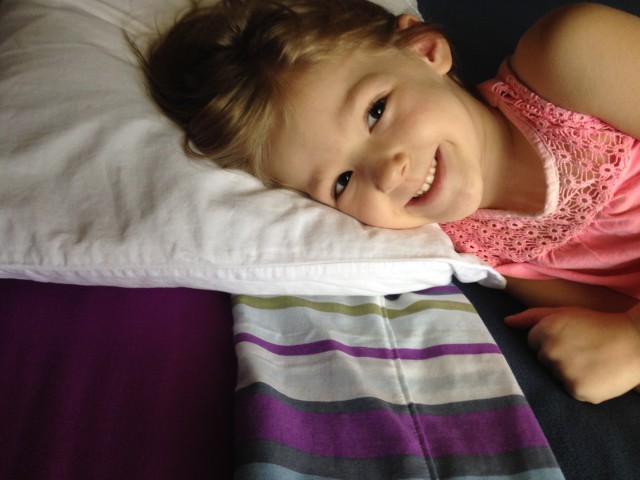 The other set of sheets is queen-size to replace an old set that was becoming brittle and too thin. But the fabric that I found for that set is amazing. It's the (blazing brilliant!) white in the first picture, but it's some of the best sheeting material I've ever seen. It's solid, medium weight, with a smooth almost velvety feel. Think high-end hotel sheets. And the fabric cost me half of what I would pay to buy a mediocre set of sheets in America. My time counts for something, of course, but I did make 2 sets in about 2 hours, so I think I'm ok with the time!
I also ran over to see my friend Susan again. The medicine to treat the bacterial meningitis continues to work, and she was up on her feet to meet me at the door today! She had finished all the books I took her on Saturday, so I brought her 3 more books, and a little loaf of banana bread that we had made yesterday.
The afternoon was back to more routine things – Abi and I did school while Naomi slept and Priscilla cleaned out all my kitchen cupboards. About the time Naomi woke up, I started working on dinner, because I knew I needed a little extra time today. I made a triple batch of rice and Spicy Beef with Peppers stir fry, to keep one batch for us and send the rest home with Carol for her family this evening. Carol works full time and has spent the last 14 months caring for one family member or another, herself included, as their family has experienced injury and illness almost continually during that time. The Lord has chosen a serious path for this family for this time, and I have known the blessing of not only being able to help in small ways, but also to be able to see the Lord strengthen their faith. We love this family so much and it hurts to see them suffer, but we too must trust the Lord, entrusting our friends to Him.
Then after dinner, this happened: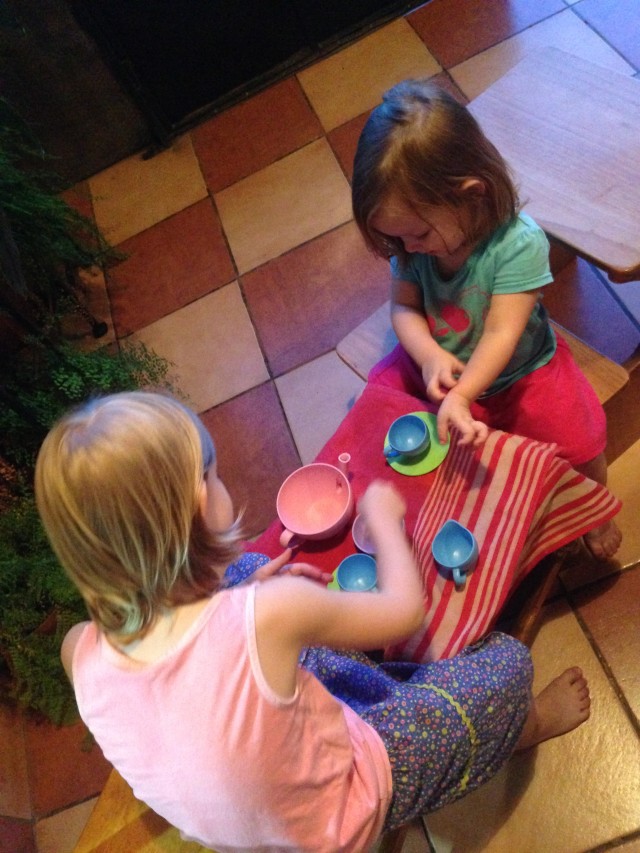 Naomi threw a dish towel over a little side table, and Abi and I were joking with her about setting the table for tea, when Abi ran off to the play room and returned with play tea set. They played for a couple minutes, then Abi had to go to the bathroom. I sent Naomi to the playroom to find a couple missing tea set pieces, while I made some tea and filled the milk pitcher and sugar bowl. When Abi came back, her eyes got big and she jumped around and yelled "We're not playing anymore, Naomi! This is REAL tea! I've always wanted to do this!!!"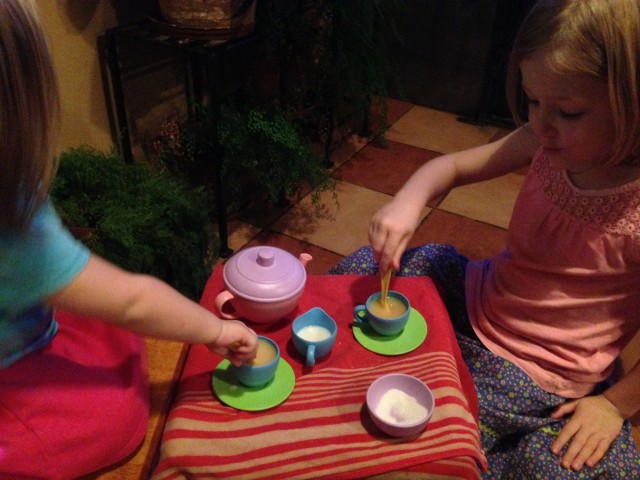 So they had their little tea party. Two cups of rooibos tea apiece.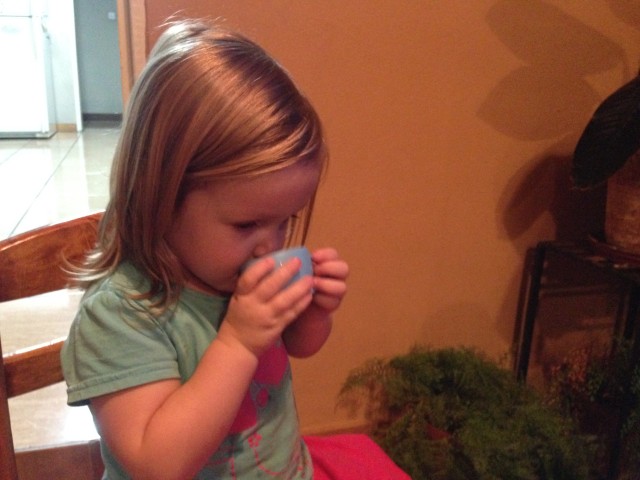 They were very careful and didn't spill a drop.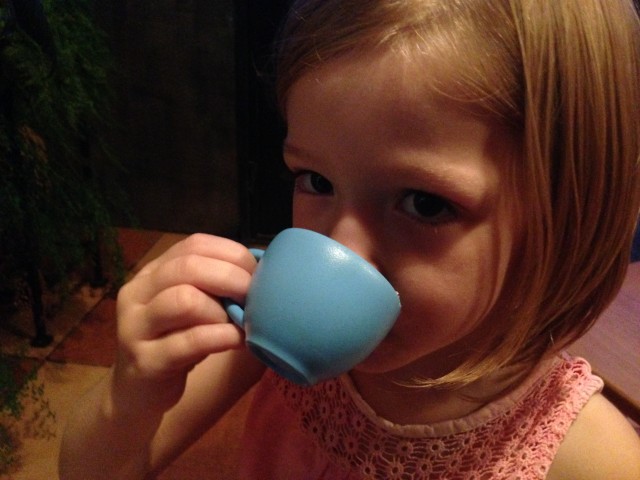 It is nice to end the day with a cuppa. =)