Every October there is a rain that is called the "chisime luksha" rain. It's the out-of-the -blue storm that stops the dust and cools us off. I love this rain, and it happened to be today.
It was foggy this morning, which is a bit odd for this time of year, but a sure sign that the humidity has rolled in. Then it got hot fast. By 9:45am, our thermometer told us it was 31C (88F). By 1:30pm, the car thermometer said 37C (98F). Oye. Then just after 2pm, one of the windiest downpours I've ever seen hit Lilongwe.
The trees were whipped around, debris and leaves flew everywhere in the air! I wanted to open all the windows because the wind was COLD, but there was too much rain.
Matt went to work pretty quickly. The last of our solar stands had been painted in the morning, so needed to be moved out of the rain ASAP. And the cars had windows cracked. By the time he got back inside, he was drenched!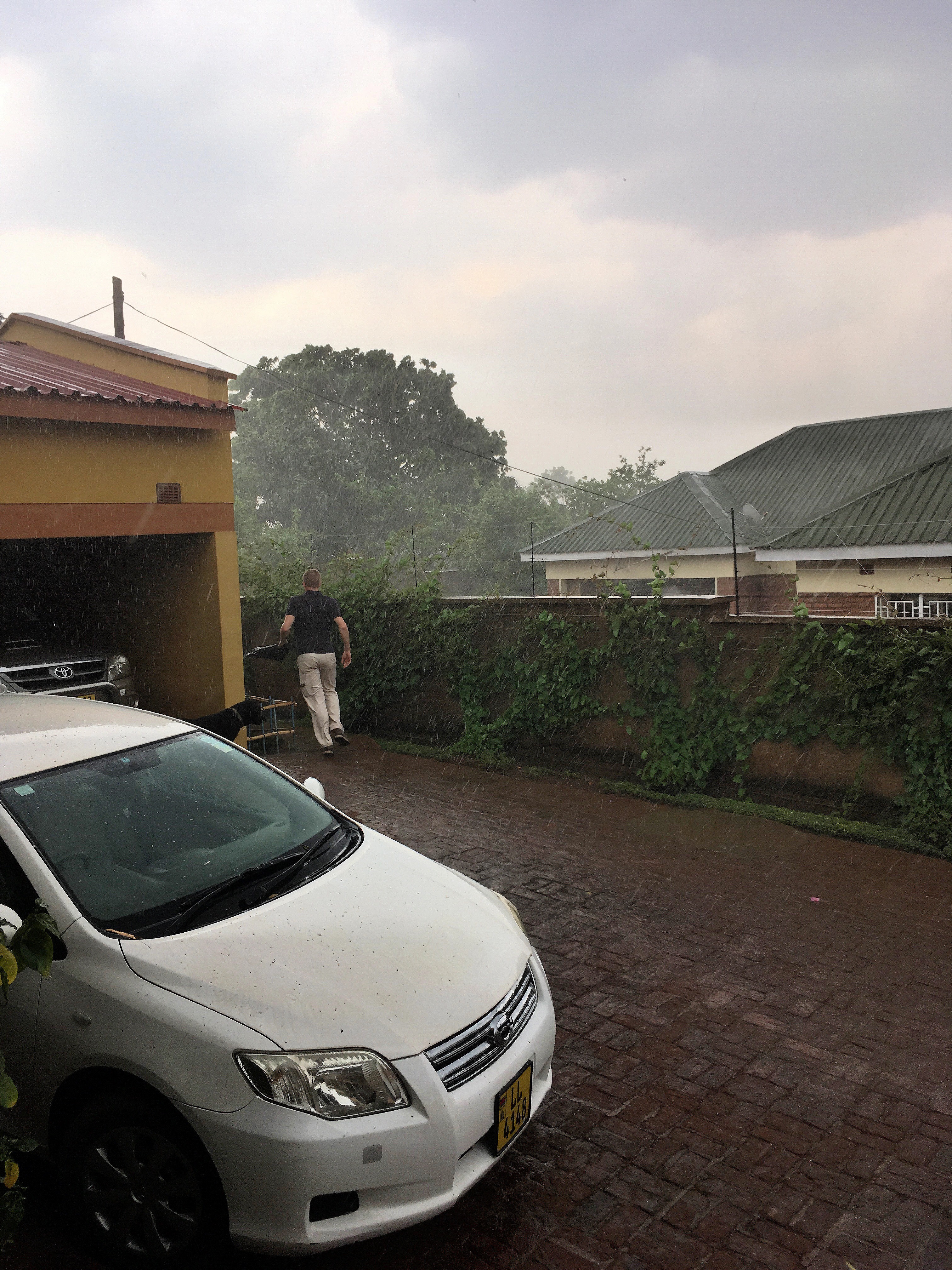 It rained off and on for about 3 hours, sometimes hard, but it generally calmed down to a nice moderate rain. As we enjoyed the natural air conditioning, I started cleaning up the puddles and wet furniture on our porch. I smiled to think that, Lord willing, a couple months from now I will be drying out furniture and squeegeeing our porch floor on an almost daily basis as we go into the real rainy season. Today was just a taste, and for us, a pleasant, cool taste.
For others it wasn't so pleasant. We've heard reports of tree limbs falling on cars, of 6 injured at Maula Prison where iron sheets tore off the roof, and of lots of power lines down. Our power is still out, putting this blackout at 17 hours and counting… just kidding it came on as I typed that! And, off again. Oh dear. We all know the rains are good, and so important for Malawi, but they come with their own set of dangers and concerns.
For today though, we will enjoy the relief from the heat, the joy of water, and the hope of green and food. And the sunset… God painted a masterpiece tonight, even the little corner we could see from our yard!